TMS FNC Component Studio
Freedom to create powerful apps for your choice of OS, IDE, framework.
---
Release
Compatible frameworks
Compatible operating systems/browsers
Compatible IDEs
Includes access to TMS FNC Core
---

Save over 20% now and even more with new free FNC component releases!
All products come with perpetual licenses and 1 year updates and support. Subscriptions can be extended for 1 year at 30% of the original price.


The TMS FNC Component Studio contains the component sets listed here.
---
---
---
---
---
---
---
TMS Subscription Manager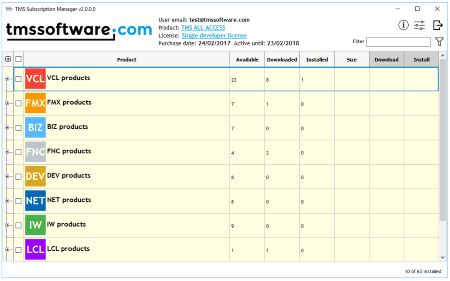 The TMS Subscription Manager can be used for a first time installation of all products after purchase as well as use it to check if updates are available and if so, download and install the updates. Users with an active subscription can obtain the TMS Subscription Manager after login on our website.


Partner Program
Create your own FNC components and become an FNC Certified partner.
Help
What our customers say
Hi Bruno Just want to drop you a line about how great your presentation was today. We often fail to point out to someone when they do a great job! You did a great job, you gave me a lot of ideas, and you answered my question very well. THANK you for your great products & super support.
Thank you for developing components where I can best describe it like this: TMS components is a case where "The wheels fit the car, and NOT the car fit the wheels". Well done.
As always your support is extraordinary and lightning fast.
Great controls - Just like I remember from the project I worked on 1998-2003. The controls only got better
I've played with the trial of Aurelius a bit and I like what I've seen so far (Firebird 2.5 with IBObjects). Especially the way how I can get started with a legacy database is nice. I wouldn't like if Aurelius thinks it needs to be clever when it comes to maintaining the underlaying database for changes due to the technical challenges mentioned above. For sure, Aurelius has potential for being an important part in the Delphi world when writing OO-based database clients.
❮
❯
Trial downloads
Fully functional trial versions of each part of the TMS FNC Component Studio can be downloaded from the separate product pages.
Buy online
TMS FNC Component Studio
---
for Delphi XE7, XE8, 10 Seattle, 10.1 Berlin, 10.2 Tokyo, 10.3 Rio, 10.4 Sydney, C++Builder XE7, XE8, 10 Seattle, 10.1 Berlin, 10.2 Tokyo, 10.3 Rio, 10.4 Sydney, (Professional/Enterprise/Architect) , Lazarus/FPC
---
View licensing FAQ
---
License for commercial use: Single developer license, Small team license, Site license
Includes full source code
Free 1 year updates and new releases
After 1 year, a 70% discount renewal is offered for a one year extension (offer valid for 30 days)
Free priority support through email and forum

---
This product is also available in the following bundle(s):
Bookmarks