TMS FNC Dashboard Pack
Create dashboard applications for Windows, cross-platform and the web
---
Release
TMS FNC Components can be simultaneously used on these frameworks:
TMS FNC Components can be simultaneously used on these operating systems/browsers:
TMS FNC Controls can be simultaneously used on these IDE's:
Features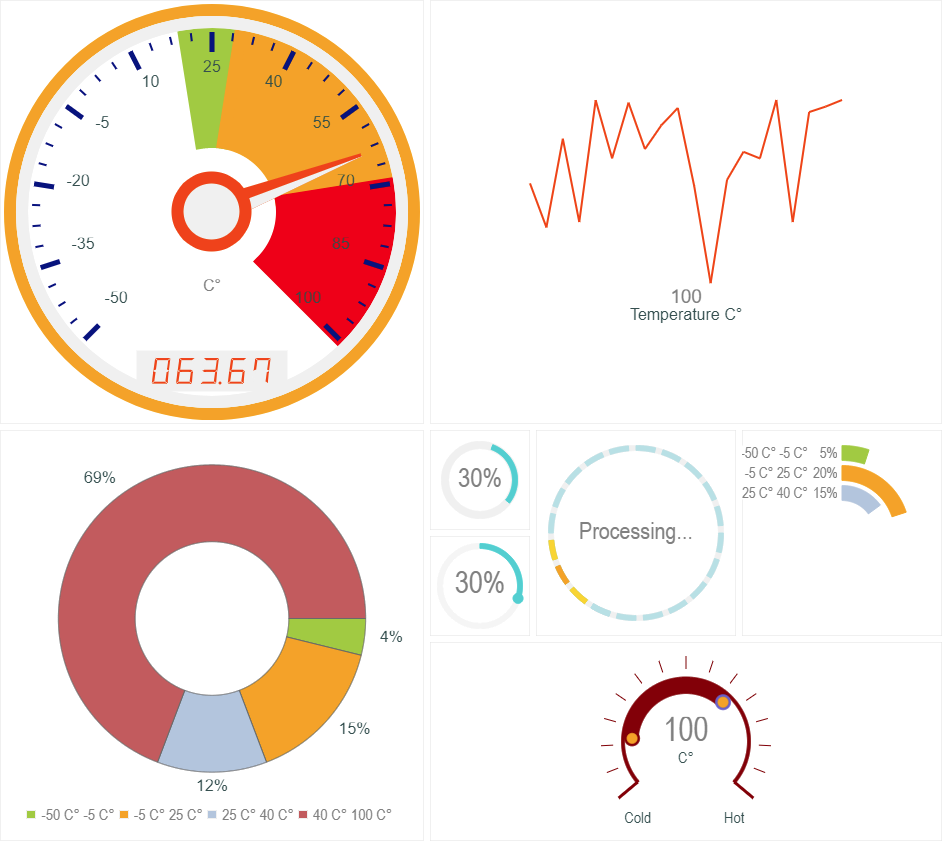 TTMSFNCWidgetProgress: Circular progress indicator
TTMSFNCWidgetSetPoint: Value indicator with range & and setpoint
TTMSFNCWidgetMultiProgress: Concentric circle based progress indicator for multiple values
TTMSFNCWidgetDistributionIndicator: Values distribution indicator in various modes: donut, pie, horiz. bar, vert. bar, funnel
TTMSFNCWidgetMarqueeProgress: Continuous running or marquee style progress indicator
TTMSFNCWidgetLCDLabel: 7-segment LCD based value indicator
TTMSFNCWidgetGauge: Highly configureable gauge control
TTMSFNCWidgetArrow: Arrow control for indicating trends via arrow up/down
TTMSFNCWidgetTrendIndicator: Trend-indicator chart control with line, area & bar type
Click image for more screenshots.
Demos
Supported frameworks and platforms
VCL Win32/Win64
FMX Win32/Win64, macOS, iOS, Android
LCL Win32/Win64, macOS, iOS, Android, numerous Linux variants including Raspbian
Supported IDE's
Delphi XE7 and C++ Builder XE7 or newer releases
Lazarus 1.4.4 with FPC 2.6.4 or newer releases.
Partner Program
Create your own FNC components and become an FNC Certified partner.
Help
Trial downloads
Trial version: limited to WEB, FMX and VCL. For mobile device deployment, the trial version supports deploying in release mode only.
Buy online
TMS FNC Dashboard Pack
---
for Delphi XE7, XE8, 10 Seattle, 10.1 Berlin, 10.2 Tokyo, 10.3 Rio, C++Builder XE7, XE8, 10 Seattle, 10.1 Berlin, 10.2 Tokyo, 10.3 Rio, (Prof/Enterprise/Architect) , Lazarus/FPC
---
View licensing FAQ
---
License for commercial use: Single developer license, Small team license, Site license
Includes full source code
Free 1 year updates and new releases
After 1 year, a 70% discount renewal is offered for a one year extension (offer valid for 30 days)
Free priority support through email and forum

---
This product is also available in the following bundle(s):
Bookmarks