Blog
All Blog Posts | Next Post | Previous Post



Bookmarks:
Wednesday, February 14, 2018
The world of web development has evolved at a fascinating pace over the past 15 years. I still remember having developed around 2001 a CGI-bin based WAP pages server application, a solution that is these days not only completely irrelevant (anyone still knows what WAP and CGI-bin is?) but technically fully outdated.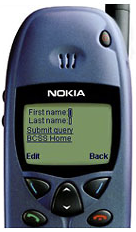 While the strength of Delphi (and thus the Pascal language) was originally in Windows desktop applications and from 2011 in cross platform native desktop and mobile applications, developing web applications was always a kind of side-affair for Delphi developers. Many Delphi developers as such also looked over the fence at other solutions to create web applications.

Over the past couple of years several welcome trends have developed: the HTML5 standard became widely accepted and available in modern browsers, the Javascript Ecma 5 standard made it a stronger language with object-oriented capabilities, CSS3 offers a styling & layout features so rich that most developers know not even half of its power.




Wouldn't it be a dream come true that Delphi/Pascal developers could also reach out to this platform? At TMS software we always felt this lacking over the past years.

A little less than a year ago, we were approached by the bright minds who were for a longer time already working on a Pascal to Javascript compiler and asked if we didn't think it would be interesting to bring the power of this new compiler in the hands of Delphi developers with a framework & IDE integration to take advantage of it. This was the kind of moment where my enthusiasm must have been at about the same level when I dropped the first components on the Delphi 1 form designer in 1995 or when I got my first FireMonkey application started on my iPhone 4 thanks to the cross-platform capabilities in Delphi XE2. Now, in 2018, we're pleased to announce a kind of similar wow experience will become available that allows you to build an application in a component based RAD way in the Delphi IDE, press F9 and see the app working in your browser.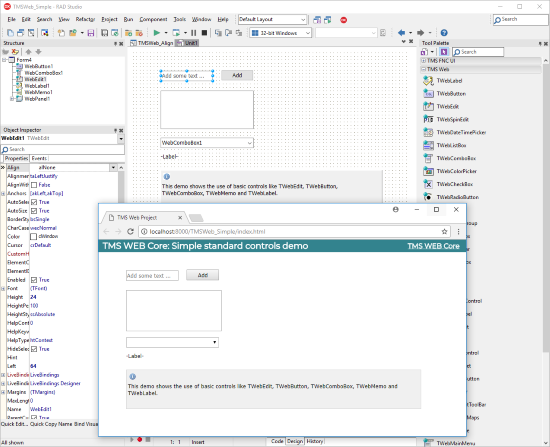 TMS RADical WEB is the umbrella name under which several web enabled products will be created and offered by TMS software and it is built upon a couple of fundamental pillars:


Backed by a solid & proven Delphi/Pascal to Javascript compiler that was years in development
Modern SPA web application model. The application consists of HTML & Javascript files that can be easily deployed on any existing light or heavyweight webservers or cloud services like AWS, Azure
Component based RAD development integrated in the Delphi IDE
Standard component framework for common UI controls and access to browser features
A truly revolutionary & innovative TMS FNC component framework that is now also web enabled, allowing to create UI controls that can be used on VCL, FMX, LCL and WEB!
Open to consume other existing Javascript frameworks & libraries, open to use HTML/CSS for design
Binding to server data via microservices with seamless interfacing to server data via TMS XData
Binding to cloud services


The first building block under the TMS RADical WEB umbrella is TMS WEB Core. TMS WEB Core offers the full RAD integration in the Delphi IDE of standard components, compiler & form designer. The next block is TMS FNC UI controls that are web-enabled. Third is TMS XData extended with a web XData client. As a first step to bring TMS RADical WEB to you, will be the delivery of a technical preview of TMS WEB Core, TMS FNC UI Controls for web and TMS XData with web client to our TMS ALL-ACCESS customers. Our TMS ALL-ACCESS customers sit as such in a first-class seat to experience this exciting new route to web development and influence the further fine-tuning with feedback, requests, comments. After this initial period, TMS WEB Core will then also become widely available to all customers.

Over the coming days, I'll give a deeper insight in each of these pillars of TMS RADical web. Watch this blog space! Every day we will have a new blog about our new web development products.
Coming blog articles are:



My colleague dr. Holger Flick, Embarcadero MVP brings it all together here:



Get started today: Technical previews of TMS WEB Core, TMS FNC UI web-enabled controls, web-enabled TMS XData, the first parts under the TMS RADical WEB umbrella are exclusively available now for all active TMS-ALL-ACCESS customers.



Bruno Fierens




Bookmarks:




This blog post has received 21 comments.










All Blog Posts | Next Post | Previous Post