Blog
All Blog Posts | Next Post | Previous Post



Bookmarks:
Monday, February 19, 2018
By design, the Pascal to Javascript compiler that is integrated in the Delphi IDE via TMS WEB Core provides a thin, direct and thus high-performance layer to Javascript. This also means that it is fairly easy to interface directly to all kinds of functionality offered by Javascript libraries including Javascript UI controls libraries.

The proof of the pudding is in the eating and to begin with, TMS WEB Core will offer out of the box a complete set of Pascal components that wrap the jQuery jQWidgets UI control set.




This is a very complete & consistent jQuery UI control set including masked editors, ribbon, calendars & datepicker, powerful paging grid, ... and many more.

We are busy creating this set of easy to use wrappers in agreement and cooperation with the jQWidgets company. A first set is already available in the TMS WEB Core technology preview available today. This is the list of controls on the Delphi tool palette we have so far covered and the team is at this very moment busy tackling the jQWidgets grid: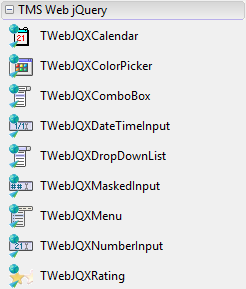 Via Delphi components you can drop these jQuery controls on the form, set properties, implement event handlers etc...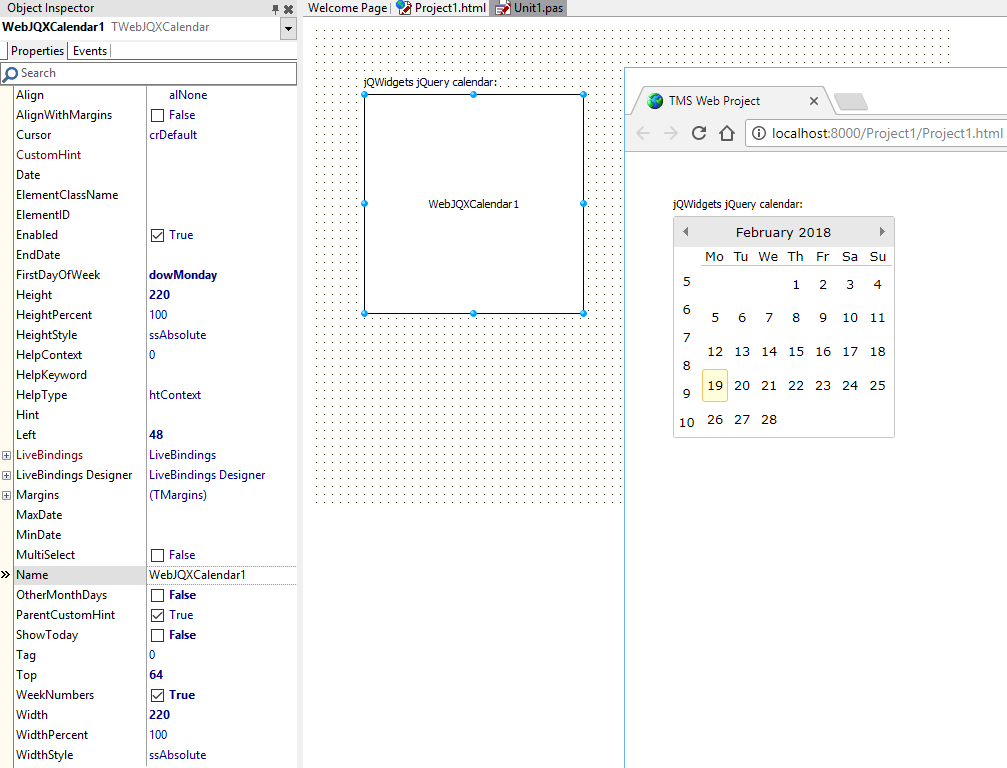 To interact with these jQuery controls, you will as such fully use the Pascal language. For deployment, all you need to do is put the jQWidgets Javascript & CSS files into the subfolder jQWidgets of your web project. Over time & steered by your feedback and requests, we will consider adding many more thin Pascal wrapper classes for other interesting Javascript libraries, frameworks, UI controls.

Get started today: Technical previews of TMS WEB Core, TMS FNC UI web-enabled controls, web-enabled TMS XData, the first parts under the TMS RADical WEB umbrella are exclusively available now for all active TMS-ALL-ACCESS customers. The jQWidgets UI controls library files can be obtained from https://www.jqwidgets.com. jQWidgets offer a free for non-commercial use license as well as licenses for commercial use.



Bruno Fierens




Bookmarks:




This blog post has received 7 comments.









All Blog Posts | Next Post | Previous Post