Blog
All Blog Posts | Next Post | Previous Post



Bookmarks:
Friday, February 28, 2020
Like every year, TMS will also be present at conferences this year.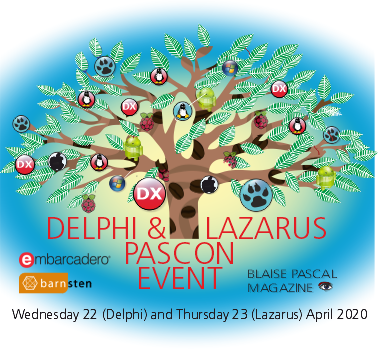 April 22, 2020:


Look & feel in VCL applications with TMS Components (60min)
In this session, Bruno Fierens explains how you can take advantage of features in the TMS VCL components to achieve a look & feel in your VCL Windows applications that is consistent with Microsoft Windows and Microsoft Office and that behaves good on screens with different DPIs.


TMS WEB Core v1.4 for Delphi web application development (60min)
In this session, Bruno Fierens gives an overview of web application development with Delphi using TMS WEB Core and the latest features in the v1.4 Ravenna.




April 23, 2020:


Develop using Object Pascal everywhere for every device (120min)
In this session, Bruno Fierens shows how as Object Pascal developer, FNC components and TMS WEB Core framework empower you to choose freely your IDE between Delphi, Lazarus and Visual Studio Code and take advantage of it to develop applications for Windows, Mac, iOS, Android, Linux and every modern web browser in different ways.





Location:

"DE KLUIS" - Dr. Holtroplaan 1 Eindhoven, The Netherlands

Don't miss our upcoming TMS events/presentations in 2020!

Masiha Zemarai
Bookmarks:
This blog post has not received any comments yet.




All Blog Posts | Next Post | Previous Post