Blog
All Blog Posts | Next Post | Previous Post



Bookmarks:
Monday, September 9, 2019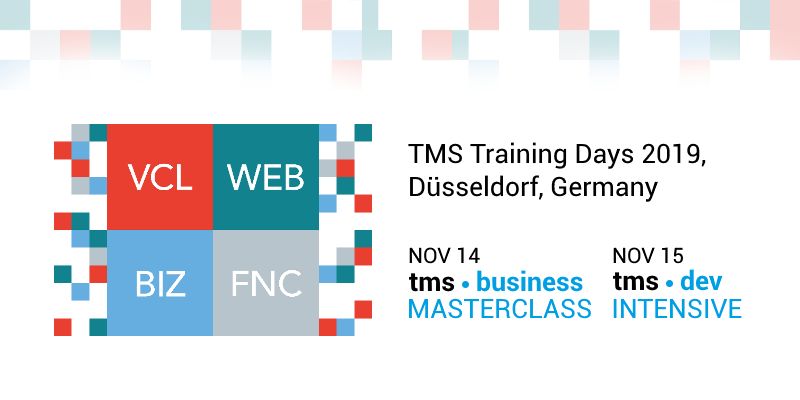 We have two upcoming training days for you. One is an entire day devoted to TMS Business Subscription Tools and the other to discover what is new in TMS products and what is coming! You can choose to attend just one training day or both days.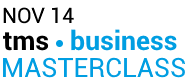 In-depth training day on TMS Business tools, especially on TMS XData, with the expert himself Wagner Landgraf, architect TMS Business Tools.
For this training the attendees can bring their own laptop to work with and follow examples. Technical facilities are provided.
Limited number of seats available to ensure direct interaction!

and/or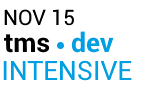 Never before so many TMS experts and Embarcadero MVPs have been brought together to update you on the latest advancements in TMS products. On this day, we will also unveil for the first time in public what is probably the most groundbreaking product for Delphi developers TMS is working on since 1995.
Our first sessions have been confirmed with Adrian Gallero, Bruno Fierens, José Léon Serna, Marion Candau, Roman Kassebaum, Roman Yankovsky and Wagner Landgraf.


Tentative agenda with already confirmed sessions
The sessions will start at 9 am.


"TMS VCL UI Pack modernized, high-DPI, VCL Styles, new components and new features" by Bruno Fierens
"Introducing Flexcel 7.0: what's new & what's coming" by Adrian Gallero
"Bringing your Delphi code to a higher level with TMS FixInsight" by Roman Yankovsky
"Using TMS Cryptography Pack for secure PDF signing", by Marion Candau
"Taking the wraps of our upcoming groundbreaking product for Delphi developers" by José Léon Serna and Bruno Fierens
"TMS WEB Core v1.3 for web, PWA and cross-platform Electron apps" by Bruno Fierens and Roman Kassebaum
+ more topics in the works that will be announced shortly

Note: All sessions will be presented in English.

Meet the experts
To maximize the value of this day, the opportunity will be given, as alternative to the regular sessions, to meet each of the many TMS experts available during the full day in person or in very small group to discuss and learn from.


Confirmed speakers
Bruno Fierens, CTO of tmssoftware.com + Embarcadero MVP
Roman Kassebaum, architect TMS WEB Core IDE integration + Embarcadero MVP
Holger Flick, QA engineer & evangelist + Embarcadero MVP
Wagner Landgraf, product manager TMS Business Tools
Adrian Gallero, architect TMS Flexcel product line
Marion Candau, architect TMS Cryptography + Embarcadero MVP
Roman Yankovsky, architect TMS FixInsight + Embarcadero MVP
José León Serna, former Embarcadero IDE team lead
Location
This event will take place at Lindner Hotel Airport , Unterrather Str. 108, 40468 Düsseldorf, Germany.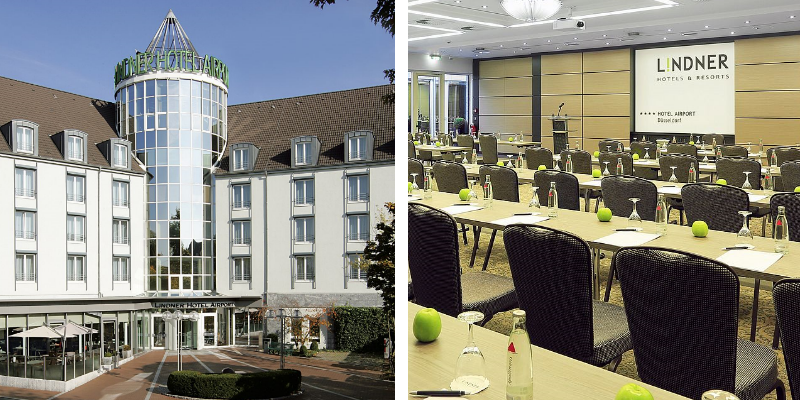 TMS software has chosen for Lindner Hotel Airport as it is 5 minutes from the Düsseldorf International Airport. Lindner Hotel Airport is very easily accessible by public transport.
Facilities for hotel rooms at the event are optionally available for attendees.


Registrations
Regular price per day: 295 EUR
Dual ticket (for both days): 495 EUR



Seats are limited so don't delay your registration and reserve your seat today!

Get more information or make your reservation here!



REGISTRATION FORM



We look forward to meet you!

Masiha Zemarai
Bookmarks:
This blog post has received 5 comments.







All Blog Posts | Next Post | Previous Post