Blog
All Blog Posts | Next Post | Previous Post



Bookmarks:
Tuesday, June 23, 2009
We're pleased to inform a new version of the productivity feature packed grid TAdvStringGrid is available now at http://www.tmssoftware.com. TAdvStringGrid has a wide range of built-in capabilities and features such as clipboard support, printing, export and import to various file formats including native XLS file import/export, support for various inplace editors, different graphic types in cells, cell merging, sorting, filtering, grouping, HTML formatted text support, rich text support, progressbars in cells and much much more... TAdvStringGrid comes with over 70 documented sample applications and an over 150 pages developers guide.

Screenshot: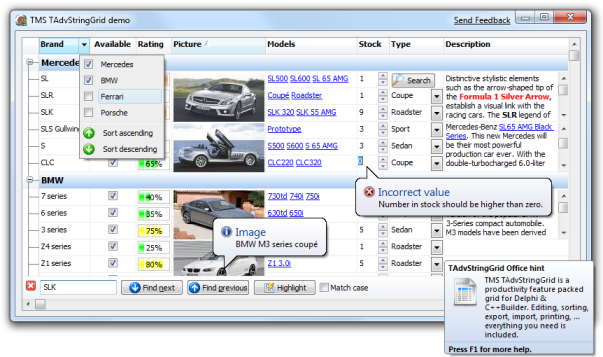 What's new & improved in v4.6:
New : TAdvGridImportDialog.Delimiter / TAdvGridImportDialog.CustomDelimiter properties added
New : Pressing Ctrl-Return on searchfooter will perform a backward search
New : OnFileProgress triggered during SaveToXML()
New : Support for export of multi image cells to HTML
New : edValidChars inplace editor type
New : AutoFitColumns can be called with new parameter DoFixedCells
New : Function SwapCells() added
New : Lookup functionality added for edEditBtn editor type
New : FilterDropDownRow property added to control on what fixed row filter dropdown appears
New : SearchFooter.SearchDirection property added to control direction of search from searchfooter
New : Public property grid.PrintSettings.BorderColor added
Improved : Export to HTML with special characters
Improved : Single row to multirow / single col to multicolumn smart clipboard handling
Improved : Small improvement wrt MouseActions.RangeSelectAndEdit = true option
Improved : Drawing of cell pictures when BidiMode is RightToLeft

Active registered users can obtain the update free after login on our website. This new version of TAdvStringGrid will also be included in the next scheduled update of TMS Component Pack
Fully functional trial versions for Delphi 5,6,7,2005,2006,2007,2009 & C++Builder 5,6,2006,2007,2009 are available at http://www.tmssoftware.com/site/advgrid2.asp

Bruno Fierens
Bookmarks:
This blog post has not received any comments yet.




All Blog Posts | Next Post | Previous Post