Blog
All Blog Posts | Next Post | Previous Post



Bookmarks:
Tuesday, June 23, 2009
We'd like to inform a new version of the TMS Smooth Controls Pack v2.5 has been released. This is a set of components to create rich and sophisticated looking Windows applications with support for touch, animations, anti-aliased graphics, opacities etc...
In TMS Smooth Controls Pack v2.5 two new controls have been added: TAdvSmoothMegaMenu and TAdvSmoothTouchKeyboard and the update includes several smaller improvements and fixes to already existing components.

Screenshots:
TAdvSmoothMegaMenu: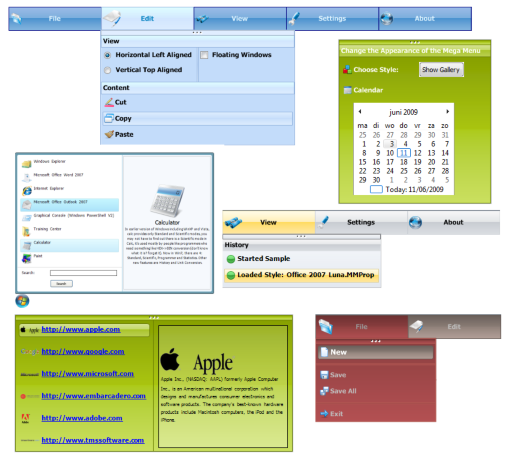 TAdvSmoothTouchKeyboard: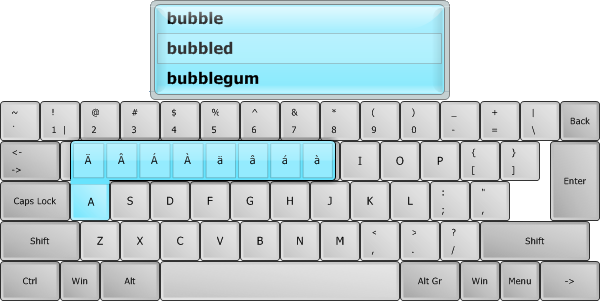 TAdvSmoothMegaMenu brings the web megamenu concept to Windows desktop applications. With mega menus, following capabilities become available in menus:
embed controls in menus
hover image & text items for menu items
menu sections
horizontal & vertical positioned menu sections
menu items with checkboxes, radiobuttons, input controls
menu items with HTML formatted text
menu items with PNG anti-aliased images
themed menus
tear-off capability
semi transparent menus

TAdvSmoothTouchkeyboard offers a virtual software keyboard. It has an iPhone style interface to input special characters and character sequences like ü, ô, .COM, etc... and has optional built-in autocompletion support.
Both TAdvSmoothMegaMenu & TAdvSmoothTouchKeyboard are available separately at http://www.tmssoftware.com but are also included in the TMS Smooth Controls Pack and will become available in the next scheduled update of the TMS Component Pack
Active registered users of one of these component packs can obtain the updates free after login on our website.

Bruno Fierens
Bookmarks:
This blog post has not received any comments yet.




All Blog Posts | Next Post | Previous Post