TMS FNC UI Pack
Powerful, feature-rich UI controls for 4 frameworks and 5+ operating systems
---
Release
TMS FNC Components can be used simultaneously on these frameworks
TMS FNC Components can be used simultaneously on these operating systems/browsers
TMS FNC Controls can be used simultaneously on these IDEs
Includes access to TMS FNC Core
---
Features
---
Powerful ribbon style toolbar component
TTMSFNCRibbon
Based on a set of existing fully-featured FNC components
Office-inspired ribbon
Multiple pre-defined themes with custom theming capabilities
Optionally collapsible / floating pages
Shortcut hints
Extensible quick access toolbar
HTML caption
Auto-layout page toolbar with multiple toolbar controls
Designed for desktop use only (Windows (FMX, VCL, LCL), Mac (FMX) and Linux (LCL))
Separator TTMSFNCRibbonForm with system menu following form settings, such as Caption, BorderIcons, ...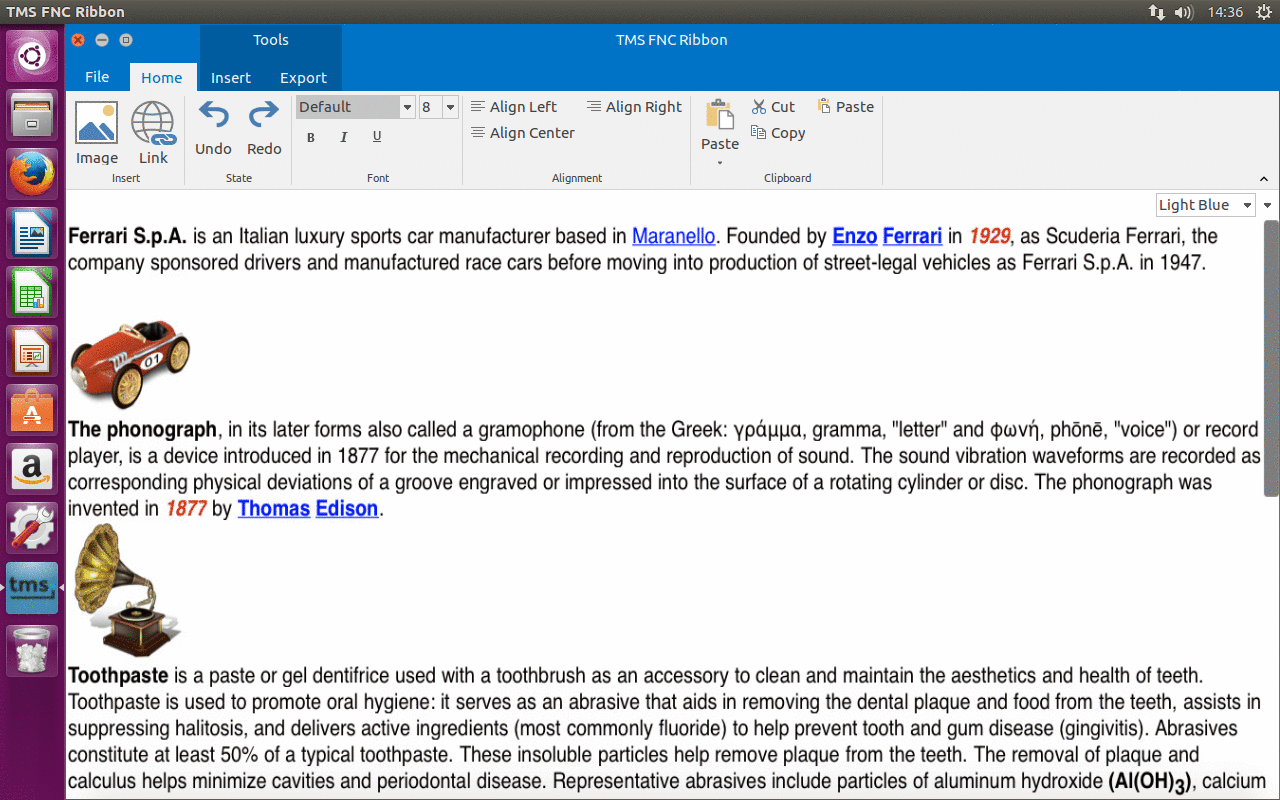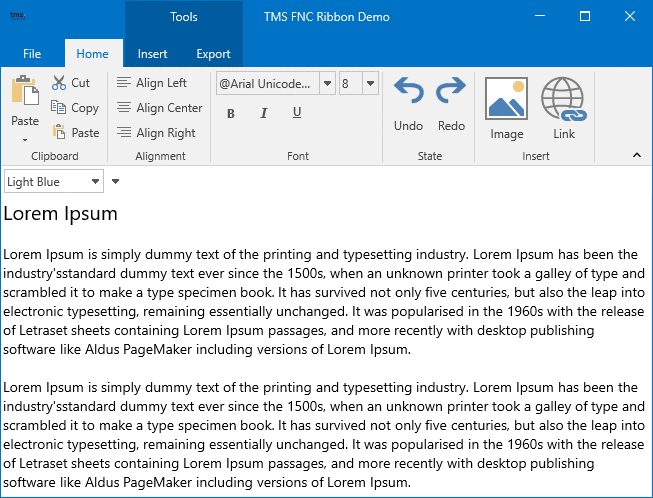 Partner Program
Create your own FNC components and become an FNC Certified partner.
Help
Testimonials
No testimonials available yet for this product.
---
Trial downloads
Trial version: limited to WEB, FMX and VCL. For mobile device deployment, the trial version supports deploying in release mode only.
Buy online
TMS FNC UI Pack
---
for Delphi XE7, XE8, 10 Seattle, 10.1 Berlin, 10.2 Tokyo, 10.3 Rio, 10.4 Sydney, C++Builder XE7, XE8, 10 Seattle, 10.1 Berlin, 10.2 Tokyo, 10.3 Rio, 10.4 Sydney, (Prof/Enterprise/Architect) , Lazarus/FPC
---
View licensing FAQ
---
License for commercial use: Single developer license, Small team license, Site license
Includes full source code
Free 1 year updates and new releases
After 1 year, a 70% discount renewal is offered for a one year extension (offer valid for 30 days)
Free priority support through email and forum

---
This product is also available in the following bundle(s):
Bookmarks