TMS FNC UI Pack
Powerful, feature-rich UI controls for 4 frameworks and 5+ operating systems
---
Release
TMS FNC Components can be simultaneously used on these frameworks:
TMS FNC Components can be simultaneously used on these operating systems/browsers:
TMS FNC Controls can be simultaneously used on these IDE's:
Features
---
Highly configurable planner / scheduler component
TTMSFNCPlanner
Built-in and customizable inplace and dialog editing
Moveable and sizeable items with HTML formatted text and hyperlink detection
High performance virtual mode
Various display modes: day, month, day period, half day period, multi day, multi month, multi day resource, multi resource day and custom displays
Multiple events for all kinds of interactions such as editing, item inserting, updating, moving and sizing
Multiple events for custom drawing and customization of default drawing
Item hints and time indication helpers
Optional overlapping items
Touch scrolling and selection
Optimized for mobile devices
Recurrency support
Databinding support via the TTMSFNCPlannerDatabaseAdapter
Separate ToolBar Popup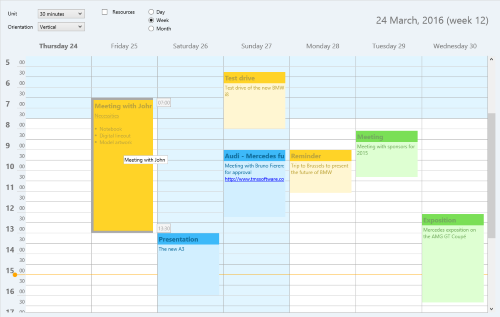 Click image for more screenshots.

Samples
EXE demos compiled with Lazarus/FPC/LCL for Windows for our TMS FNC Planner can be downloaded here:
Partner Program
Create your own FNC components and become an FNC Certified partner.
Help
Trial downloads
Trial version: limited to WEB, FMX and VCL. For mobile device deployment, the trial version supports deploying in release mode only.
Buy online
TMS FNC UI Pack
---
for Delphi XE7, XE8, 10 Seattle, 10.1 Berlin, 10.2 Tokyo, 10.3 Rio, 10.4 Sydney, C++Builder XE7, XE8, 10 Seattle, 10.1 Berlin, 10.2 Tokyo, 10.3 Rio, 10.4 Sydney, (Prof/Enterprise/Architect) , Lazarus/FPC
---
View licensing FAQ
---
License for commercial use: Single developer license, Small team license, Site license
Includes full source code
Free 1 year updates and new releases
After 1 year, a 70% discount renewal is offered for a one year extension (offer valid for 30 days)
Free priority support through email and forum

---
This product is also available in the following bundle(s):
Bookmarks