Blog
All Blog Posts | Next Post | Previous Post



Bookmarks:
Wednesday, August 17, 2022

TMS WEB Core facilitates to leverage all your Object Pascal knowledge to create component based rich web client applications from the Delphi IDE.
Did you know that for some time, it is equally possible to apply this knowledge using TMS WEB Core but from the Visual Studio Code IDE?
Visual Studio Code or sometimes short-named VS Code is not to be confused with Microsoft Visual Studio! Visual Studio Code is a free and cross-platform IDE widely popular with web developers. It runs directly on Windows, macOS and Linux, it brings thousands of productivity extensions and according to some sources, is the most used code editor.
To lower the barrier to discover what Visual Studio Code can mean for you when doing Object Pascal based web development with TMS WEB Core, our chief architect for TMS WEB Core for Visual Studio Code and Embarcadero MVP José Leon Serna created a free Udemy course to let you get acquainted with Visual Studio Code faster.
Learn for free how quickly you can reuse your skills to build web client applications from Visual Studio Code with the added benefits of running the IDE on the operating system of your choice, debug web client apps from the IDE and have a web technology based WYSIWYG form designer. Just tune in and join us!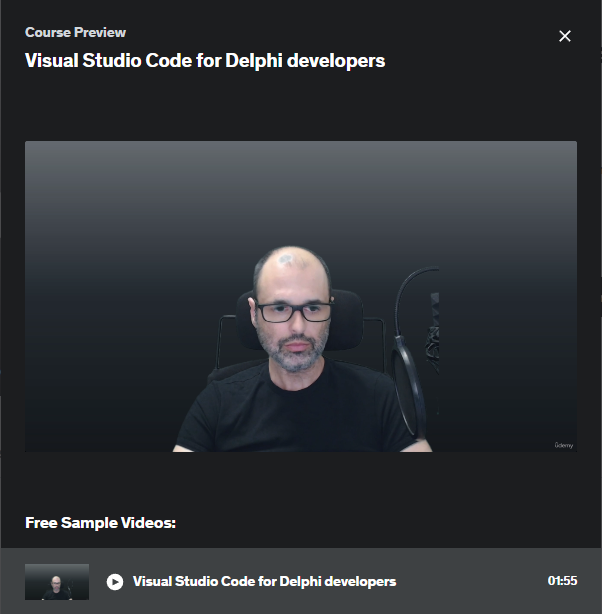 Visual Studio Code and the TMS WEB Core extension
Visual Studio Code is a free and open source tool from Microsoft. It's cross platform, meaning you can use it on macOS, Windows, Linux and on web browsers. In this course, we will show how you can translate your existing knowledge about RAD Studio into Visual Studio Code through a series of short videos. So if you are a Delphi developer using RAD Studio, you will learn how easy is to use Visual Studio Code. We will keep expanding the course with new topics. Also, be aware that Visual Studio Code is not a visual development environment, so at TMS Software we have been adding that functionality through an extension, so you can create applications visually with it. We have followed the same RAD principles, so you will feel familiar with it.
Please share your opinion, suggestion, new ideas... with us in the comments below.
Masiha Zemarai
Bookmarks:
This blog post has not received any comments yet.




All Blog Posts | Next Post | Previous Post