Blog
All Blog Posts | Next Post | Previous Post



Bookmarks:
Wednesday, June 17, 2020
The My Products page is one of the most important parts of the TMS Software website for our customers. This is the place to download the latest version of all purchased products and review the license details. Over the past weeks this page has been improved a lot with a more compact view, quick and easy access to the downloads and several filtering options.

We are excited to make the V2 BETA available to all customers!


What's new and improved?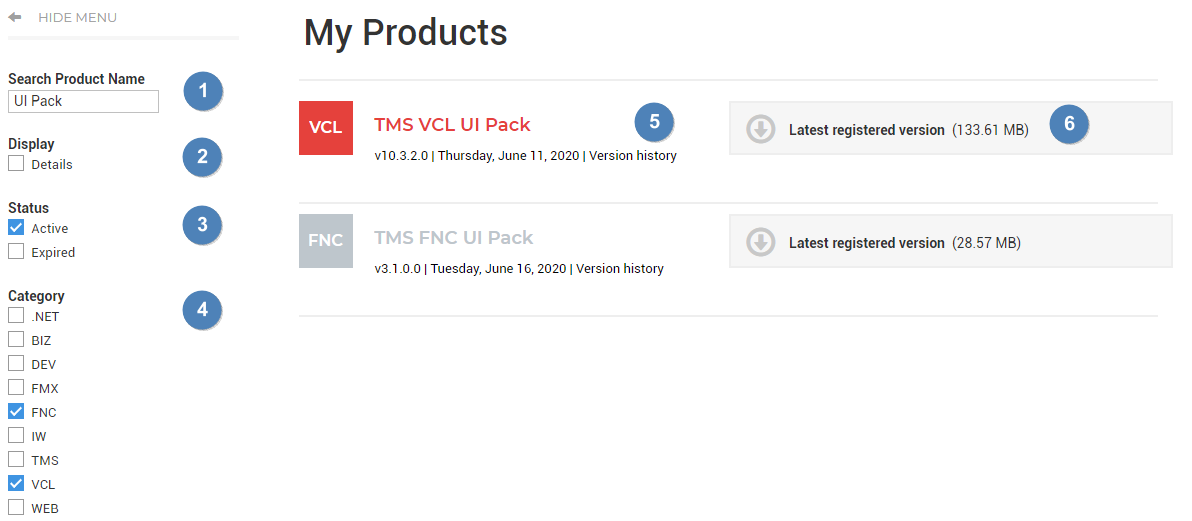 1 Live search
Especially TMS ALL-ACCESS customers have a long list of products.
With the live search you can start typing the name of a product and the list will be filtered instantly.


2 Toggle details
License details are important and can be enabled instantly, but most of the time you just want to get to the download without the clutter.


3 Active licenses
By default only products for which an active license is available are displayed.
Optionally, expired licenses can be displayed as well.


4 Live filter by category
Select only the specific categories of products you want to see and the list is filtered instantly.


5 Compact display with color coding
A compact view of the product name, version and release date with a link to the version history.
Also the color coding for TMS products has become an important part of our corporate identity and from now on this is also part of the My Products page.


6 Quick and easy access to the downloads
Just one click away from downloading the latest version of a product.


Start using it now!
The My Products V2 BETA is now available for all customers. Make sure you are logged in!

Bart Holvoet
Bookmarks:
This blog post has received 9 comments.









All Blog Posts | Next Post | Previous Post