Blog
All Blog Posts | Next Post | Previous Post



Bookmarks:
Monday, February 11, 2019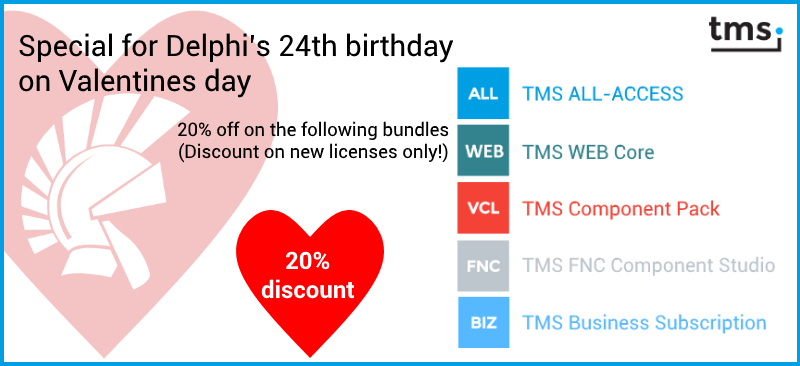 Delphi 1.0 was released on Feb 14, 1995 and celebrates its 24th birthday this year.

Also for TMS software, these 24 years were extremely exciting. Where we were developing VCL UI controls for 16bit Windows applications in 1995, we meanwhile have per monitor high-DPI enabled VCL UI controls for Win64, cross-platform FMX controls for Windows, macOS, iOS, Android, web UI controls for IntraWeb, an ORM TMS Aurelius and REST server products like TMS XData or our TMS WEB Core web client framework!

Delphi was, is and remains a language, IDE and development community we are passionate about. To share the love and passion and celebrate, we have this week discounts for you!

On top of our regular low prices you receive an extra 20% discount on new licenses! Enjoy these super discounts all week long!

To take advantage of these super deals, just use the following coupon code: Valentine 2019


Special 20% discount

Plaese note: discounts are valid on new licenses only!

Our team looks forward to your suggestions, feedback and likes to be challenged by things you want to see realized with TMS products!
And also do not forget to like and follow us on Facebook and Twitter for more discounts.



Masiha Zemarai
Bookmarks:
This blog post has received 1 comment.






All Blog Posts | Next Post | Previous Post