Blog
All Blog Posts | Next Post | Previous Post



Bookmarks:
Monday, November 26, 2018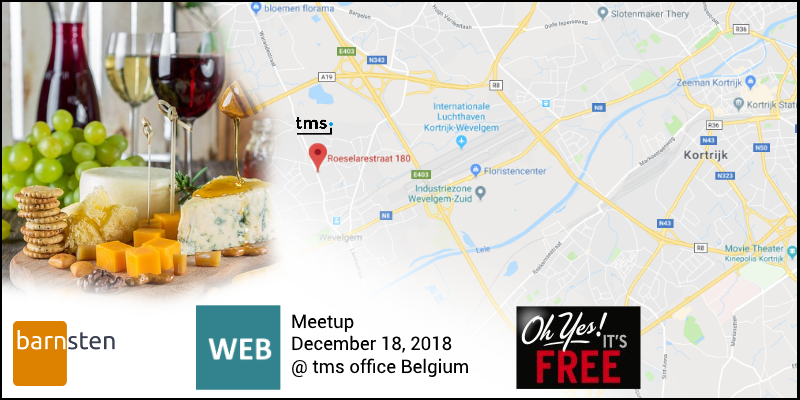 In cooperation with Barnsten Netherlands , we will be organizing the second FREE TMS meetup on December 18th, 2018 at tms office, in Belgium.

Sessions will be spent on TMS WEB Core v1.1 new features, real-life cases & exclusive sneak-preview of revolutionary new TMS WEB Core future possibilities. That day you will have the time and the opportunity to interact with our team and discuss your projects!
Sufficient time will be allocated for Q&A as well.

Moreover, there is a nice surprise for the attendees! All attendees will receive a free version of the latest edition of the Blaise Pascal magazine.


Tentative program:
Time
Description
Speaker
14h00-15h00
Exclusive sneak-preview of new Pas2JS based web development possibilities
Matthias Gärtner/Jean-Pierre Hoefnagels
15h00-15h15
Q&A
15h15-16h00
A TMS WEB Core use-case
Overview of a real-life web application for a customer developed by C-Quel software
Filip Lagrou
16h00-16h15
Q&A
16h15-17h15
TMS WEB Core v1.1 Verona new features
Bruno Fierens
17h15
Tapas & wine
Networking with fellow Delphi developers and the TMS software team + possibility to discuss & look at specific projects


Please note: The presentations are held in Dutch.

The number of places will be very limited. We aim at maximum 30 attendees.
So if you want to be part of this very valuable event, do not wait and subscribe ASAP!

Subscribe here.

We are looking forward to meet many of our customers and Delphi developers at the meetup!
If you have any questions, don't hesitate to contact us.



Masiha Zemarai




Bookmarks:




This blog post has not received any comments yet.




All Blog Posts | Next Post | Previous Post