Blog
All Blog Posts | Next Post | Previous Post



Bookmarks:
Monday, May 28, 2018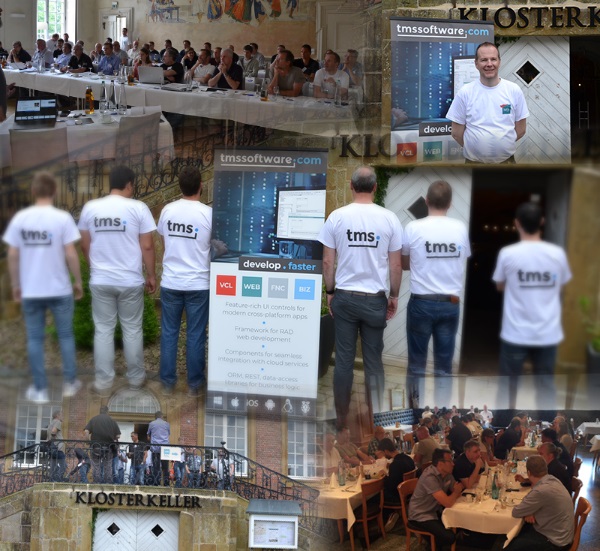 Without a doubt, this was THE day our team looked forward to as well as many Delphi developers. The TMS RADical Web day was all about devoting a full day to the new web development tools being worked on by the tmssoftware team. We had chosen a place for this event in a peaceful green area of Germany, Klosterpforte, Germany. It would allow us to exchange the latest informations without any distractions from hectic & stressfull city life, away from busy & stressfull days company life typically brings.

With a group of about 40 persons, we not only presented the latest status of the developments of the TMS WEB Core framework, the web-enabled TMS FNC framework, TMS XData REST server technology, Flexcel reporting technology, Embarcadero RAD server technology, but we also listened closely to your needs, suggestions, concerns and questions. In short, we hope not only the attendees learned a lot, our team also learned a lot. In short, it was a very fruitful day. After the TMS RADical Web day, there was an even more in-depth day focused on TMS XData REST server technology. A group of about 10 Delphi developers intensively learned & discussed the many possibilities TMS XData REST server offers.

I especially want to thank for all the hard work delivered from the team present: Wagner Landgraf, Adrian Gallero, Pieter Scheldeman, Roman Kassebaum, Leon Kassebaum, Detlef Overbeek, Mattias Gärtner, Matthias Eissing.

If you missed this event, don't worry. Next, there will be a presentation about TMS Web Core at the Italian Delphi Day on June 7 in Piacenza and there is a meetup planned on June 12 in the offices of TMS software.

If you are hosting other events where you'd wish to see TMS WEB Core in action, please contact us and when feasible we'll consider coming to a place near you!

Meanwhile, the team is hammering out as much as possible the last niggles & issues and working feverishly to bring the first release as soon as possible.

Get started today: Technical previews of TMS WEB Core, TMS FNC UI web-enabled controls, web-enabled TMS XData, the first parts under the TMS RADical WEB umbrella are exclusively available now for all active TMS-ALL-ACCESS customers.

Bruno Fierens
Bookmarks:
This blog post has received 3 comments.








All Blog Posts | Next Post | Previous Post