Blog
All Blog Posts | Next Post | Previous Post



Bookmarks:
Thursday, August 25, 2016
We're pleased that in the month September we have again the chance to meet our customers, to show our products, to meet new developers who wishes to learn about our components & tools, ... on several upcoming events in Europe.

Bruno Fierens has also been invited as speaker, Bruno will talk about the challenges of creating cross-framework Pascal components. He will bring a session that discusses the differences between Pascal UI frameworks, how to build UI controls that can be used in the different UI frameworks and an introduction to the complex TMS FNC UI Controls that we have released so far. We will also show a sneak preview of a few brand new FNC UI controls that are currently in development.
An overview of the events:

Achmea Conference Center
Handelsweg 2, 3707 NH ZEIST
The Netherlands





FIAP
30 rue Cabanis, 75014 Paris
France




Mercure Hotel
Friesenstrasse 44-48, 50670 Köln
Germany





Congrescentrum
Blokhoeve 1, 3438 LC Nieuwegein
The Netherlands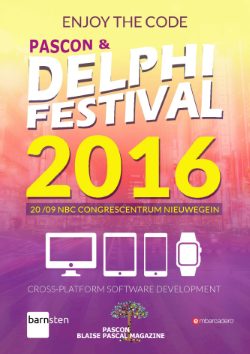 We're looking forward to see you at one of these events!

Nancy Lescouhier
Bookmarks:
This blog post has not received any comments yet.




All Blog Posts | Next Post | Previous Post