Blog
All Blog Posts | Next Post | Previous Post



Bookmarks:
Monday, June 20, 2016
In the past couple of months, TMS software formed a partnership with the company Cyberens with the goal to jointly develop cryptography solutions for Delphi, C++, C users. With this partnership, Bernard Roussely and Marion Candau from Cyberens bring in the high expertise in cryptography algorithms with the expertise of TMS software to bring this in intuitive and easy to use classes for Delphi and C++Builder users. Bernard Roussely and Marion Candau have years of experience with cryptography, developed cryptography based solutions for various high-profile security projects in companies and governments and have completed all the administrative work to satisfy EU export control requirements.

The first result coming forth out of this partnership is the TMS Cryptography Pack. This is a bundle of advanced and up-to-date cryptography algorithms such as AES, SPECK, SALSA20, ECIES encryption, SHA2 and SHA3 hash generation, RSA, EdDSA signing ...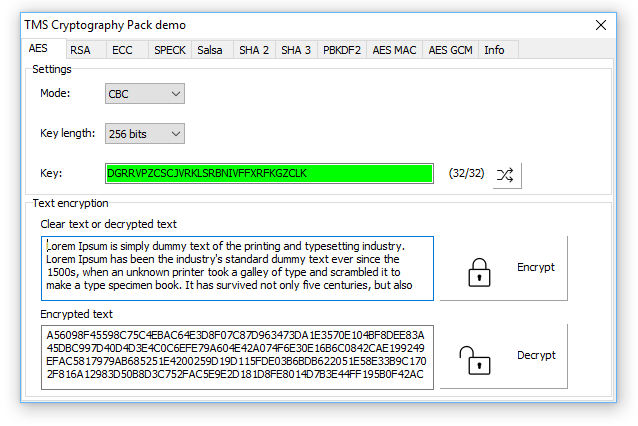 You can discover the TMS Cryptography Pack here and download a fully functional trial version for Delphi XE2 to Delphi 10.1 Berlin.

We're excited to work together with Bernard Roussely & Marion Candau to build out a strong line of cryptography based solutions for software developers in the coming years and we're eager to learn about your needs, comments, wishes in this area.



Bruno Fierens




Bookmarks:




This blog post has received 13 comments.











All Blog Posts | Next Post | Previous Post