Blog
All Blog Posts | Next Post | Previous Post



Bookmarks:
Monday, October 14, 2013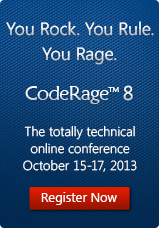 Join Embarcadero and software development experts from around the world this week at CodeRage – the totally free, totally technical, online conferences dedicated to technology and development.

On Thursday Oct 17, our colleague Wagner Landgraff is giving a presentation on our Delphi ORM TMS Aurelius and this introduction will help you quickstart using the TMS Aurelius framework for writing effective database driven Delphi applications in a productive way.

Bruno Fierens
Bookmarks:
This blog post has received 3 comments.








All Blog Posts | Next Post | Previous Post