Blog
All Blog Posts | Next Post | Previous Post



Bookmarks:
Monday, March 12, 2012
We're proud to announce our first Windows Phone app! Stay in touch with the latest developments and releases at TMS software anywhere, anytime with one single Windows Phone application. View the latest blogs, tweets, product releases and Youtube training videos.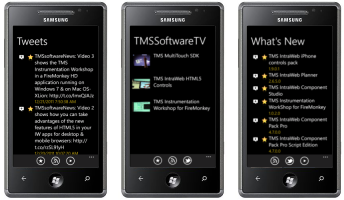 Features
View latest product updates, release history, component descriptions
Stay in touch with the latest blog articles as they are written
Instantly view latest TMS tweets
Detailed product information with the latest updates
Read our blog, check our tweets
See what's new, what's improved, what's fixed in our components
View latest Youtube training videos from the tmssoftwareTV's channel
Download
Get this free app here and enjoy !

May we meanwhile invite you to have a look at some other interesting free apps, plugins, utilities... that we offer. Please feel free to have a look at our free tools bundled here: https://www.tmssoftware.com/site/freetools.asp.

Looking forward to hear your feedback & ideas for enhancements or new ideas!

Nancy Lescouhier
Bookmarks:
This blog post has not received any comments yet.




All Blog Posts | Next Post | Previous Post