Blog
All Blog Posts | Next Post | Previous Post



Bookmarks:
Sunday, July 19, 2009
We're excited to announce the first release of the new feature-rich Silverlight component for single/multi-resource scheduling Silverlight applications.
The Silverlight Planner is a Silverlight control for implementing a broad range of planning and scheduling solutions. Whether a project requires the creation of a single-user Personal Information Management (PIM) application or time planning for multiple resources such as hotel rooms, rental cars and university courses, the Silverlight Planner provides an open, highly-configurable interface that will suit the project's needs. Because Silverlight Planner is browser-based, it is perfect for applications supporting users connected via an intranet or the Internet.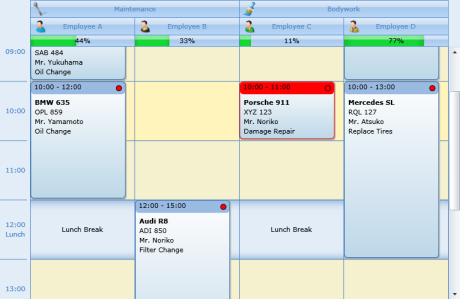 Features :

Multi-resource / multi-day or combined multi-resource/multi-day modes
Full drag & drop support
Time-axis orientation can be horizontal or vertical
Recurrency support & built-in recurrency editor
WCF based data binding to server-side database
Configurable editing of events, via inplace editing, popup editing,..
Highly customizable appearance via Expression Blend or XAML code.
Optional completion display per resource
Optional linked events support with link indication and various link types

Online demos :


Take advantage of the special introduction price to purchase a license of the TMS Silverlight Planner now.



Single developer license:

95EU

instead of 125EU!
Site license:

395EU

instead of 495EU!

Special introduction offer is valid till August 15, 2009.

We look forward to all your feedback and comments about our new Silverlight Planner component and requests and suggestions for other Silverlight components as well!

Bruno Fierens
Bookmarks:
This blog post has not received any comments yet.




All Blog Posts | Next Post | Previous Post