Blog
All Blog Posts | Next Post | Previous Post



Bookmarks:
Wednesday, August 23, 2023
Are you ready to take your product bundle experience to the next level? Look no further than TMS Subscription Manager v2.2.0.0, your all-in-one solution for managing, updating, and renewing your TMS software bundles. Whether you've invested in TMS ALL-ACCESS, TMS VCL Subscription, TMS Component Studio, TMS FNC Component Studio, TMS BIZ Essential, TMS BIZ Standard, or TMS BIZ Premium, this powerful tool is designed to enhance your software journey.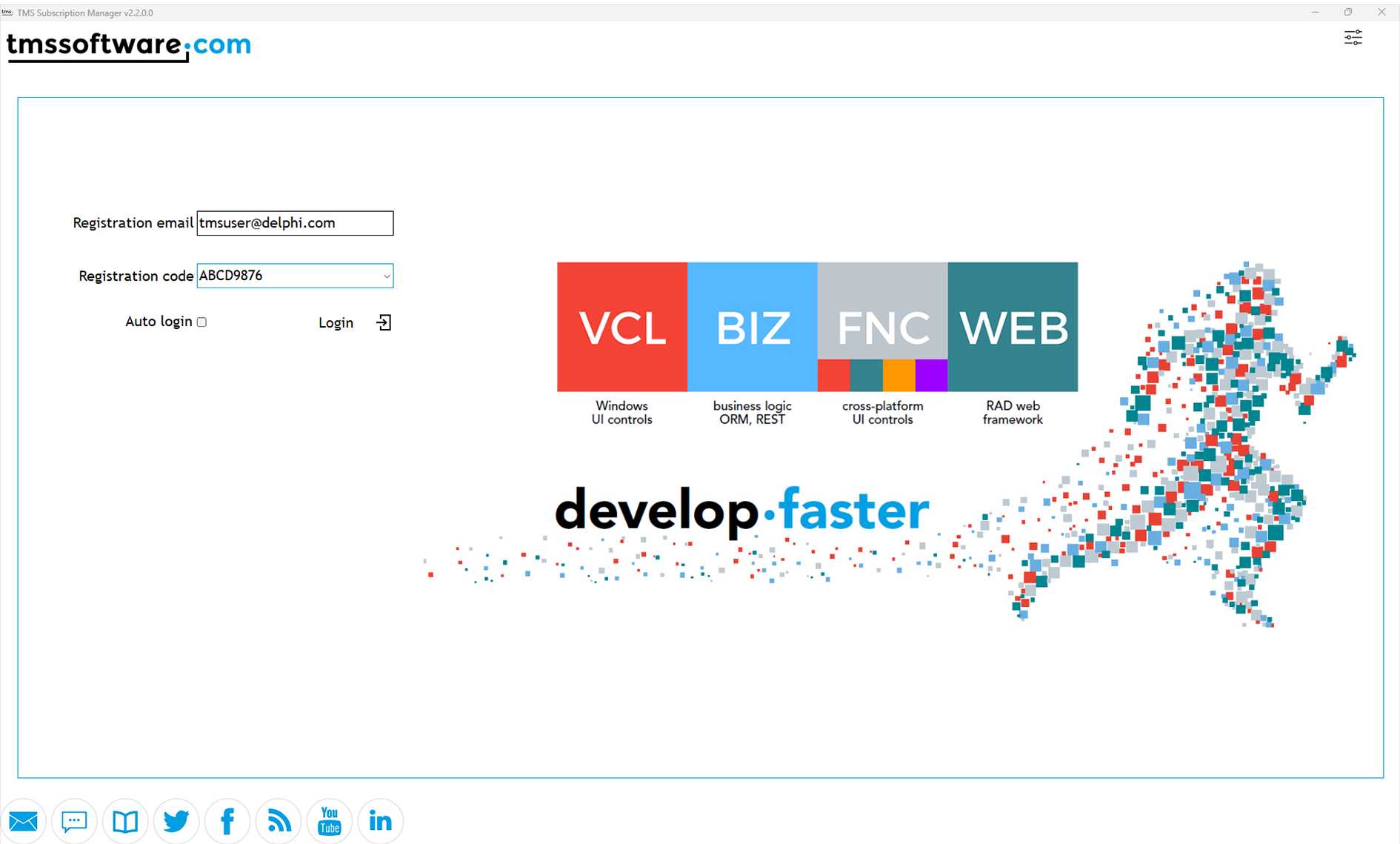 Streamlining the Experience

At TMS Software, we understand that managing multiple product bundles can sometimes be overwhelming. That's why we've developed TMS Subscription Manager v2.2.0.0 with you in mind. With this latest version, we've gone the extra mile to create a seamless and user-friendly experience. No more hassle of searching through your personal account or struggling to keep your software up to date. Our Subscription Manager is here to simplify your journey.


What TMS Subscription Manager Offers:
Centralized Management: TMS Subscription Manager brings all your product bundles together in one place, making it easier than ever to access and manage them.
Effortless Installation: Installing your software shouldn't be a complex task. With TMS Subscription Manager, installing your desired products is a breeze. No more digging through files or manual installations.
Automatic Updates: Keeping your software up to date ensures you have access to the latest features and improvements. Our built-in TWebUpdate technology ensures that your TMS Subscription Manager itself remains current, delivering a smooth experience every time.
Comprehensive Information: Need details about your products? TMS Subscription Manager provides you with essential information about your product bundles, allowing you to stay informed and make informed decisions.
Easy Renewals: Renewing your product licenses is now more straightforward than ever. TMS Subscription Manager keeps track of your renewal dates, ensuring that you don't miss out on continued access to your favorite tools.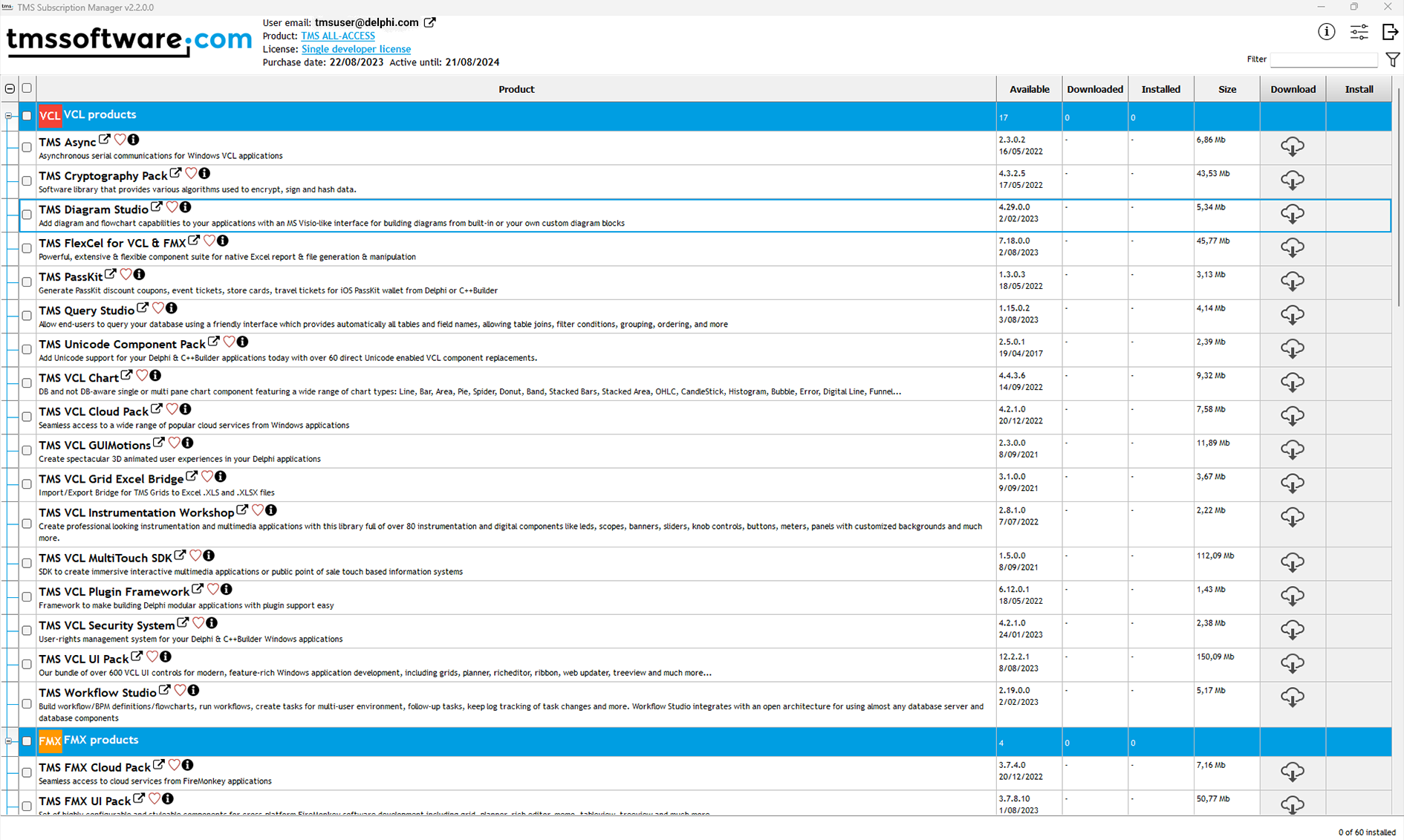 Built with You in Mind

TMS Subscription Manager v2.2.0.0 is not just another software management tool. It's a carefully crafted solution designed to enhance your interaction with our product bundles. As a 100% native Delphi created Windows client, it seamlessly integrates into your workflow. Moreover, its integration with TMS VCL UI Pack components ensures a sleek and familiar interface.

Experience the Convenience Today

We invite you to explore the world of TMS Subscription Manager v2.2.0.0 and discover how it can elevate your experience with TMS software bundles. It's time to simplify the way you manage, install, update, and renew your products. At TMS Software, we're committed to providing you with the tools you need to excel.
Upgrade to TMS Subscription Manager v2.2.0.0 today and unlock a new level of software bundle management.
Aaron Decramer
Bookmarks:
This blog post has received 14 comments.












All Blog Posts | Next Post | Previous Post