Blog
All Blog Posts | Next Post | Previous Post



Bookmarks:
Wednesday, May 17, 2023
Back in 2020, the first edition of the TMS WEB Core book, written by our colleague Dr. Holger Flick was released.

We're proud to announce that today, the 2nd edition of the book is available now! The book was launched at our recently held TMS Training Days and all attendees received the first signed copies as a present.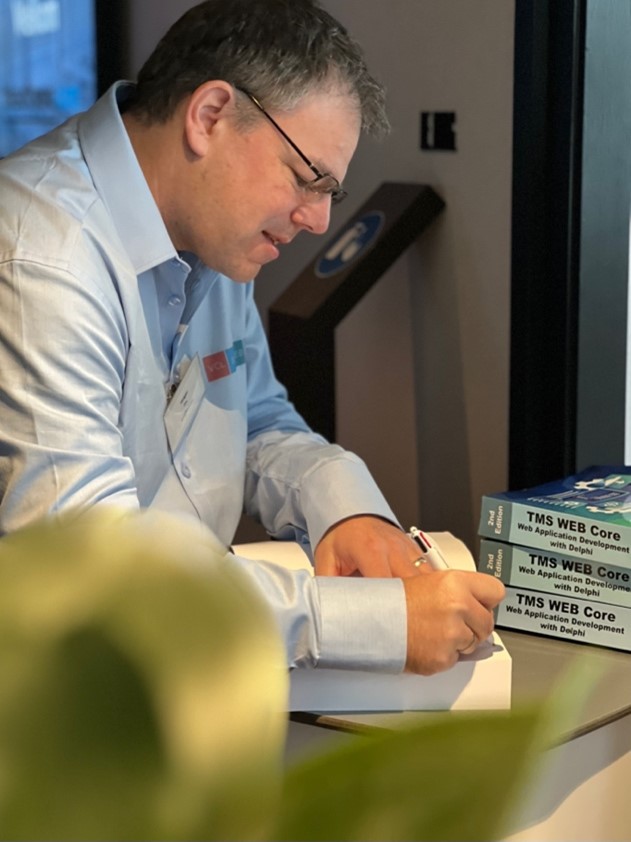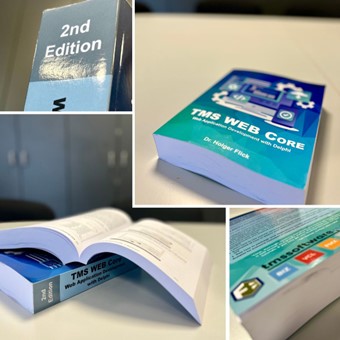 Book contents
While the first book was based on the TMS WEB Core v1.4 release, the 2nd edition is based on TMS WEB Core v2.1 release. While all content of the first book still applies, the book was not only completely revised but a significant amount of content was added to cover all new features and possibilities that were added to TMS WEB Core meanwhile. The result is a whopping 708 pages and we can now rightfully call it the TMS WEB Core bible. Compared to the first edition with 361 pages, the content almost doubled! You can consult the full table of contents here.
TMS WEB Core extended capabilities covered
Delphi language compatibility substantially increased via the pas2js transpiler and its RTL.

TMS WEB Core framework was significantly extended with new components and new features.
Support for easier asynchronous programming via promises.
More browsers APIs and DOM access was exposed via the framework via easy-to-use Object Pascal classes.
New Delphi IDE integrations targeted at increasing productivity, especially in the area of using HTML templates or JavaScript libraries.
A new framework Miletus was added to offer lightweight cross-platform desktop application development.
TMS WEB Core can now also be used from the free & cross-platform Visual Studio Code IDE.
A book for any serious Delphi web developer
With this reference work, you really learn the inner workings of TMS WEB Core, including various deployment strategies among which also Docker. You can learn about connecting a TMS WEB Core front-end to a backend server like TMS XData.
With this new book, you take the shortcut to become a professional and productive Delphi developer creating modern & light TMS WEB Core web client apps.
Order now
To make the book easily globally available, the book is published via and available at Amazon. This guarantees the most reliable distribution worldwide.
You can order your copy here.
Bruno Fierens
Bookmarks:
This blog post has received 11 comments.













All Blog Posts | Next Post | Previous Post