Bookmarks:
Monday, April 25, 2011
A couple of days ago, via an email contact with a customer, we learned about the DHS project. The DHS project stands for Digital Home Server. This is best understood as a framework to create a media and application server for the living room. Media can be audio, video, family pictures etc... What is cool is the modular "application" or "widget" creation for the Digital Home Server. Applications are full screen configurable tools while widgets are small rectangles that can be positioned anywhere on the screen. Sample included widgets are a clock, a weather forecast, railway station information, etc...

As you can see in the screenshot, the Digital Home Server has a great looking user interface. We were totally impressed and happy to learn that this was created with the TMS Smooth Controls and with our beloved tool Delphi! This is really a perfect example of users letting our controls shine. Congrats to Walter Lecossois for creating this.
I'd like to invite you to have a look at Digital Home Server. It's free software! Walter is still looking for your help. Why not contribute to create more widgets. What about a widget that shows your stock quotes, a widget for your Twitter feed, a widget to alert you about your watched Ebay items, ... the possibilities are countless!
We're very excited about this impressive home server platform showing the power of Delphi and our controls. We're eager to learn about new versions, your contributions, your thoughts for new widgets and your ideas for new Smooth Controls to fit in this type of application.

If you have created equally nice looking & great software, let us know! We could feature your software here in our blog or at our page about customer applications.


Bruno Fierens
Bookmarks:
This blog post has not received any comments yet. Add a comment.
Bookmarks:
Tuesday, June 23, 2009
We'd like to inform a new version of the TMS Smooth Controls Pack v2.5 has been released. This is a set of components to create rich and sophisticated looking Windows applications with support for touch, animations, anti-aliased graphics, opacities etc...
In TMS Smooth Controls Pack v2.5 two new controls have been added: TAdvSmoothMegaMenu and TAdvSmoothTouchKeyboard and the update includes several smaller improvements and fixes to already existing components.

Screenshots:
TAdvSmoothMegaMenu: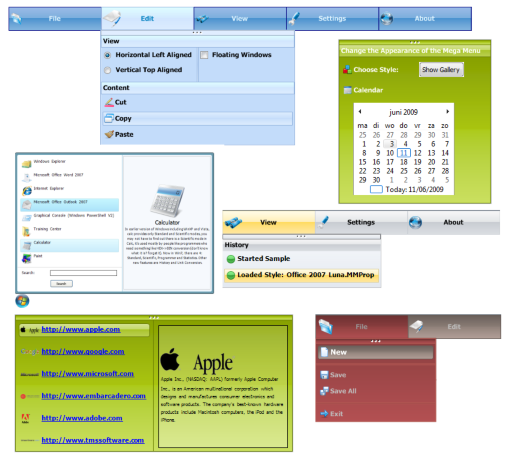 TAdvSmoothTouchKeyboard: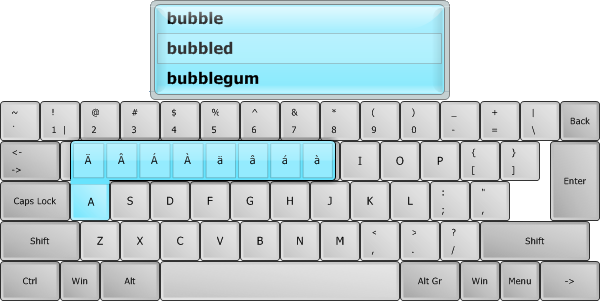 TAdvSmoothMegaMenu brings the web megamenu concept to Windows desktop applications. With mega menus, following capabilities become available in menus:
embed controls in menus
hover image & text items for menu items
menu sections
horizontal & vertical positioned menu sections
menu items with checkboxes, radiobuttons, input controls
menu items with HTML formatted text
menu items with PNG anti-aliased images
themed menus
tear-off capability
semi transparent menus

TAdvSmoothTouchkeyboard offers a virtual software keyboard. It has an iPhone style interface to input special characters and character sequences like ü, ô, .COM, etc... and has optional built-in autocompletion support.
Both TAdvSmoothMegaMenu & TAdvSmoothTouchKeyboard are available separately at http://www.tmssoftware.com but are also included in the TMS Smooth Controls Pack and will become available in the next scheduled update of the TMS Component Pack
Active registered users of one of these component packs can obtain the updates free after login on our website.



Bruno Fierens




Bookmarks:




This blog post has not received any comments yet. Add a comment.
Bookmarks:
Monday, April 20, 2009
We're thrilled to announce the release of TMS Smooth Controls Pack v2.0. We've again packed a couple of new visually stunning & sophisticated looking controls in the TMS Smooth Controls bundle.

What's new & improved:

TAdvSmoothDock:
In this new version, we've added an Apple style dock bar. This dock bar can be used as menu in your application and smoothly animates alpha transparent PNG images, features item jumping on click, scrolling, left, top, right & bottom alignment, overlap with other controls, OLE drag & drop and much more.



TAdvSmoothSplashScreen:
Make a professional first impression when your application starts with the TAdvSmoothSplashScreen. The splash screen features semi-transparency, alpha transparent PNG files, smooth progressbar, sophisticated fills, HTML formatted text, automatic version & company information retrieval and irregular shapes.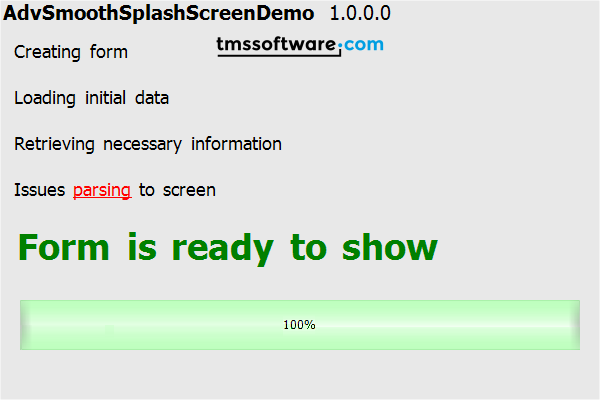 TAdvSmoothMessageDialog:
Message boxes in your applications no longer look dull and boring. With TAdvSmoothMessageDialog, the dialog can be semi transparent, can have a sophisticated background fill, can have images in the caption that display outside the regular message dialog border, buttons can have images and colors and buttons can be positioned horizontally or vertically. The message itself can have HTML formatted text.




TAdvSmoothSlider:
This On/Off slider button has smooth animation to transition to a new state and the On and Off state can be fully customized.




TAdvSmoothScrollBar:
This special scrollbar features a runtime scaleable pagesize allowing the scrollbar to be used as both a scroll and zoom control.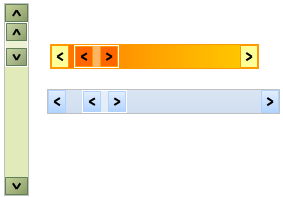 TAdvSmoothTimeLine:
This timeline offers support for timeline indicators, timeline sections, a fully configurable time axis to show seconds, minutes, hours, days, ... hints for sections and indicators, moveable and fixed indicators and all this with sophisticated visuals you have become used to from the TMS Smooth Controls.



Improvements & enhancements to existing components:
We have also done several improvements and extensions to existing components. Full details can be found at: https://www.tmssoftware.com/site/advsmoothcontrols.asp?s=history. This includes new transparency in the TAdvSmoothProgressBar, threshold sections in TAdvSmoothGauge, formatted value display on the TAdvSmoothJogwheel and much much more...




Bruno Fierens




Bookmarks:




This blog post has not received any comments yet. Add a comment.
Bookmarks:
Wednesday, February 25, 2009
We're excited to announce a new version of our feature-rich sophisticated looking and smoothly animated controls: TMS Smooth Controls Pack v1.8. Impress your users with this set of fantastic smooth controls!
Screenshot: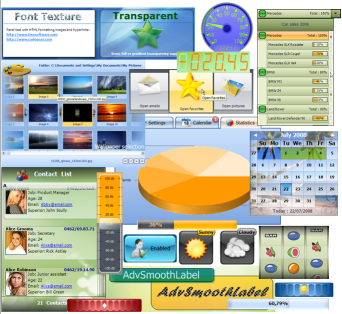 What's new in v1.8 :
New: ReadOnly property added to Disable all user interactions in TAdvSmoothSpinner
New: Property GroupIndex to create radiogroup behaviour in TAdvSmoothToggleButton
New: Keyboard support to increase or decrease value in TAdvSmoothTrackBar
New: Keyboard support to handle click with SpaceBar and Enter keys in TAdvSmoothButton
New: HotKey Support in TAdvSmoothToggleButton
New: HotKey Support in TAdvSmoothButton
New: Focus indication on thumb fill in TAdvSmoothTrackBar
New: Focus indication on active tab in TAdvSmoothTabPager
New: Focus indication in TAdvSmoothToggleButton
New: Focus indication in TAdvSmoothMenu
New: Focus indication in TAdvSmoothGauge
New: Focus indication in TAdvSmoothButton
New: Enabled Checkbox with space key when item has focus in TAdvSmoothListBox
New: Change value by clicking on scale in TAdvSmoothGauge
New: Added spacing property in TAdvSmoothStatusIndicator
New: Added property GlowShape in TAdvSmoothMenu
New: Added property Enabled to disable an item in TAdvSmoothMenu
New: Added properties MinimumValue and MaximumValue to limit Continuous mode in TAdvSmoothJogWheel
New: Added IndicatorValue property to change the indicator start value in TAdvSmoothJogWheel

Fully functional trial versions for Delphi 6,7,2005,2006,2007,2009 & C++Builder 2006,2007,2009 are available at: https://www.tmssoftware.com/site/advsmoothcontrols.asp. The enhancements for the smooth controls will also become available as part of the next full TMS Component Pack



Bruno Fierens




Bookmarks:




This blog post has not received any comments yet. Add a comment.



Previous | Next | Index