VCL
TMS VCL MultiTouch SDK
SDK to create immersive interactive multimedia applications or public point of sale touch based information systems.
---
Feature overview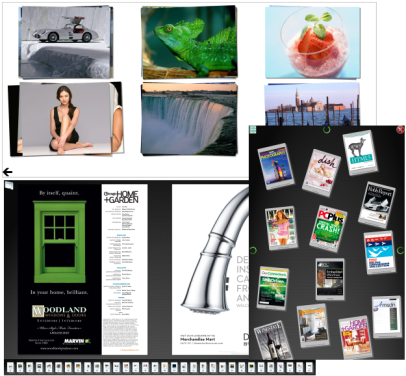 Click image for more screenshots.

Multi-touch manipulations of items: rotate, scale, pan, zoom, move,...
Display modes for items: Cascade, Grid, Position, Random, Stacked and Transform
Items can have an image, text or combined image and text
Items can have associated controls
Items have default content & detail content with flip animation between default & detail
Visualizer concept to allow to display any kind of file type (includes visualizer for shell preview & PDF)
Custom drawing on items
Manipulation of region background (pan, zoom, scale)
Static control items on region
Built-in methods to perform screen rotate (0°,90°,180°,270°)
Different states for each item : normal, selected
Animation transitions
Automatic paging in grid mode
Automatic stack to other display mode transitions
Configurable number of rows / columns in grid mode
Complex fills on items, control items
Includes the entire range of TMS Smooth Controls with iPhone/iPad style thumbnail list, calendar, touch keyboard, popup, buttons, trackbars, megamenu, dock bar,... and much more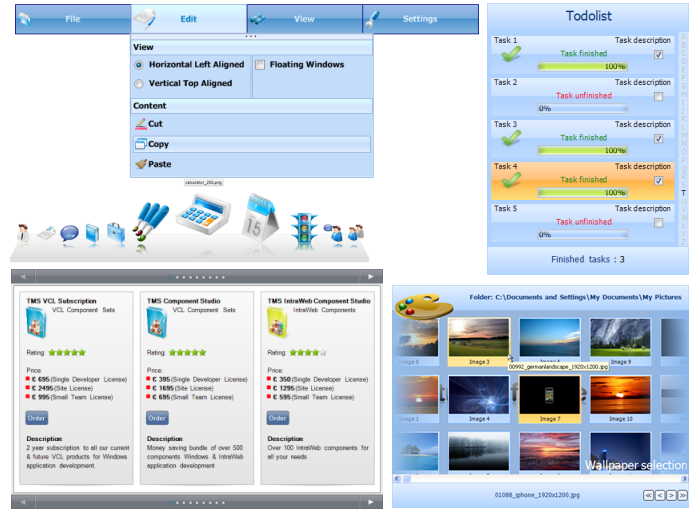 Consulting and hardware
TMS software offers consulting services to create immersive multi-touch applications for you or your customer.
Third parties
For the rendering of pages of a PDF document, the TMultiTouchRegionPDFVisualizer offers seamless interfacing to the QuickPDF library. More information, trial download & licensing information for the QuickPDF library can be found at: http://www.quickpdflibrary.com/
Demo overview
HD screenshots
Video TMS MultiTouch SDK and TMS SmoothTable hardware
To show the multitouch handling and animation that is offered in the TMS MultiTouch SDK we've made a video of the 5 demos in action on the TMS SmoothTable:


Pricing
Single Developer License
Small Team License
Site License
TMS VCL MultiTouch SDK
---
€ 215
---
1 Renewal price is subject to change. Renewal price valid up to 30 days after license has expired. After renewal period a discount price is offered to renew the license.
Free Trial
---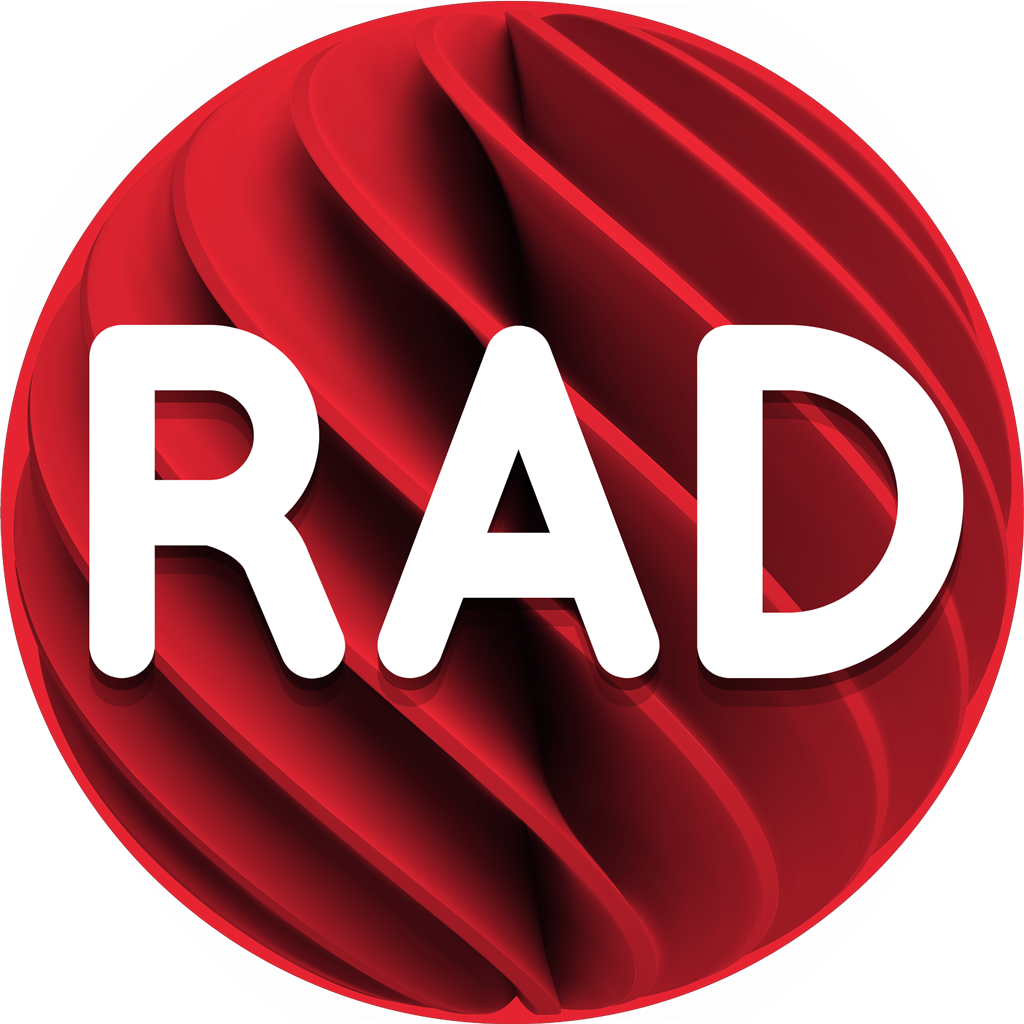 What our customers say
As a developer for 30+ years, and a Delphi developer since 1996, I've a solid foundation on desktop development. But I was skeptical of indulging in web development. Though the market was demanding a switch, it seemed too difficult to make the transition. TMS Software was my "magic bullet" to get me started with zero intimidation. Love their Web Core and XData products. Now I can develop powerful web applications using Delphi. TMS Software has renewed my love for Delphi and won my heart for their innovators. Thanks to the team for great products and a large volume of demos and manuals. You ROCK!
In the past I have purchased other components from other parties. I will say proudly that TMS is the best in support, price and style. Whenever I need a help your team is always there to help me. Keep up the good work
Hi Bruno Just want to drop you a line about how great your presentation was today. We often fail to point out to someone when they do a great job! You did a great job, you gave me a lot of ideas, and you answered my question very well. THANK you for your great products & super support.
Thank you for developing components where I can best describe it like this: TMS components is a case where "The wheels fit the car, and NOT the car fit the wheels". Well done.
As always your support is extraordinary and lightning fast.
❮
❯