VCL
TMS VCL GUIMotions
Create spectacular 3D animated user experiences in your Delphi applications
---
Feature overview
Offers 8 different animation modes for images, glyphs, controls
Includes the Carousel animation mode, similar to the Apple coverflow
Supports hosting controls
Supports custom drawn items
Different ways to load images: directly, by file reference, threaded
Zoom on selected item, alternate selected item display
Mouse & keyboard support
Keyboard lookup
Optional navigator to immediately scroll through images
Comes with 4 demos : image browser, chart browser, grid browser and file browser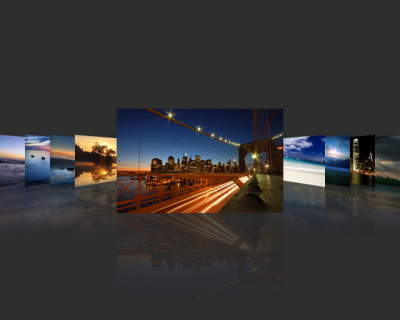 Click image for more screenshots.
Help
What our customers say
TMS GUIMotions deeply impressed me. With GUIMotions I have all I need very fast, reasonably cheap and completely native. I just want to say thank you to these great guys in this company and write my opinion about this component for others.
In the past I have purchased other components from other parties. I will say proudly that TMS is the best in support, price and style. Whenever I need a help your team is always there to help me. Keep up the good work
Hi Bruno Just want to drop you a line about how great your presentation was today. We often fail to point out to someone when they do a great job! You did a great job, you gave me a lot of ideas, and you answered my question very well. THANK you for your great products & super support.
Thank you for developing components where I can best describe it like this: TMS components is a case where "The wheels fit the car, and NOT the car fit the wheels". Well done.
As always your support is extraordinary and lightning fast.
❮
❯
VCL
Buy now
TMS VCL GUIMotions
---

---
Compatibility
Delphi 2010, XE, XE2, XE3, XE4, XE5, XE6, XE7, XE8, 10 Seattle, 10.1 Berlin, 10.2 Tokyo, 10.3 Rio, 10.4 Sydney, 11 Alexandria (Professional/Enterprise/Architect)
---
Licensing
License for commercial use: Single developer license, Site license
Includes full source code
Ask questions to our engineers related to purchased product via Support Center
Free 1 year updates and new releases
After 1 year, a discount renewal is offered for a 1 year extension. *
* offer valid for 30 days after end of license. Discount price is subject to change.
---
Included In
Bookmarks
×