DEV
TMS MemInsight
Delphi run-time memory allocation inspection, exception call stack logging, thread inspection and more
---
The TMS MemInsight is a collection of debugging tools which contains several modules: a memory profiler, a thread viewer, a module viewer and an enhanced exception handler. TMS MemInsight can be integrated easily into your Delphi projects, either using its integrated graphical user interface or its API.
Introducing TMS MemInsight
Feature overview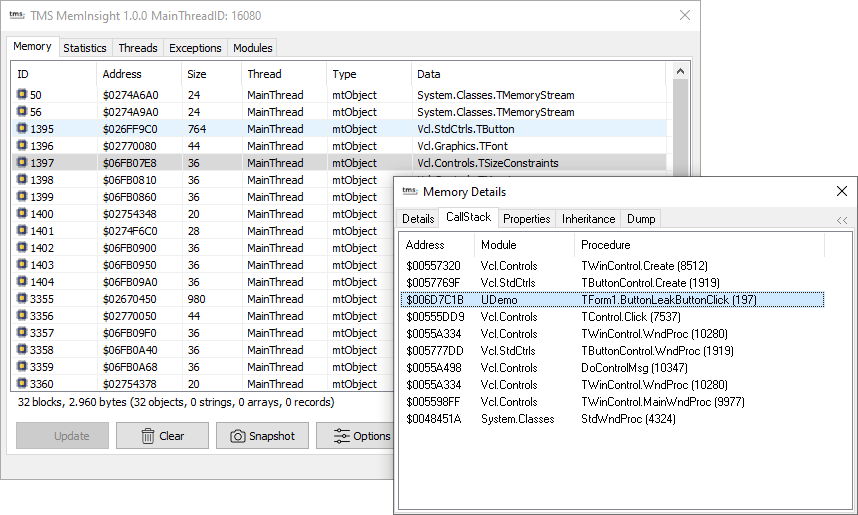 recognizes objects, strings, arrays and records
supports packages
supports profiling of multiple threads
call stack retrieval
uses standard MAP files
independent of compiler switches
integrated GUI for monitoring and debugging
easy to use; almost no special requirements
support for wait chain traversal
detection of thread deadlocks
detection of premature freed memory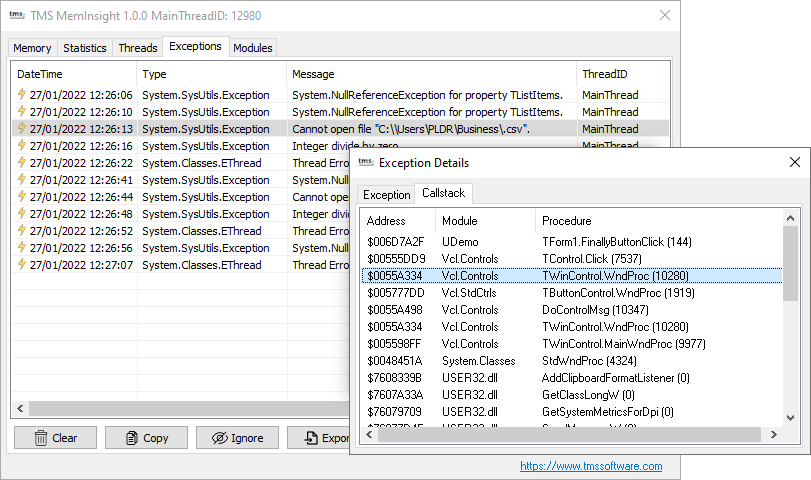 Help
What our customers say
In the past I have purchased other components from other parties. I will say proudly that TMS is the best in support, price and style. Whenever I need a help your team is always there to help me. Keep up the good work
Hi Bruno Just want to drop you a line about how great your presentation was today. We often fail to point out to someone when they do a great job! You did a great job, you gave me a lot of ideas, and you answered my question very well. THANK you for your great products & super support.
Thank you for developing components where I can best describe it like this: TMS components is a case where "The wheels fit the car, and NOT the car fit the wheels". Well done.
As always your support is extraordinary and lightning fast.
Great controls - Just like I remember from the project I worked on 1998-2003. The controls only got better
❮
❯

---
Compatibility
Delphi XE7, XE8, 10 Seattle, 10.1 Berlin, 10.2 Tokyo, 10.3 Rio, 10.4 Sydney, 11 Alexandria (Professional/Enterprise/Architect)
---
Licensing
License for commercial use: Single developer license, Small team license, Site license
Includes full source code
Ask questions to our engineers related to purchased product via Support Center
Free 1 year updates and new releases
After 1 year, a discount renewal is offered for a 1 year extension. *
* offer valid for 30 days after end of license. Discount price is subject to change.
---
Included In
Bookmarks
×