VCL
TMS Query Studio
Make queries easy, flexible & powerful.
---
Feature overview
Query Studio provides an easy way to give users access to powerful queries without requiring any knowledge about SQL. Users can setup complex queries in an almost natural language way with Query Studio. Dropping the component VisualQuery on the form and connect to the database opens the visual query power of Query Studio.
Visual definition of SQL, in a natural language-like way
Localization support to easily translate all user interface elements
Allows definition of source tables and joins
Allows definition of order and filtering
Exclusive parameter editors feature: a value in the filter condition can be attached to a parameter editor. End-user can change editor value and it will automatically be reflected in SQL
Supports SQL syntax for Microsoft Access, Microsoft SQL Server, AnyDAC, Oracle, MySQL, Nexus, Interbase, DBISAM and Local BDE
Automatically set TDataset properties. Supports BDE, ADO, AnyDAC, IBX, DBISAM, Nexus, IBO, DirectSQL and DBExpress dataset descendants
Automatic grouping feature for aggregate functions usage
Support custom field expressions and custom filter conditions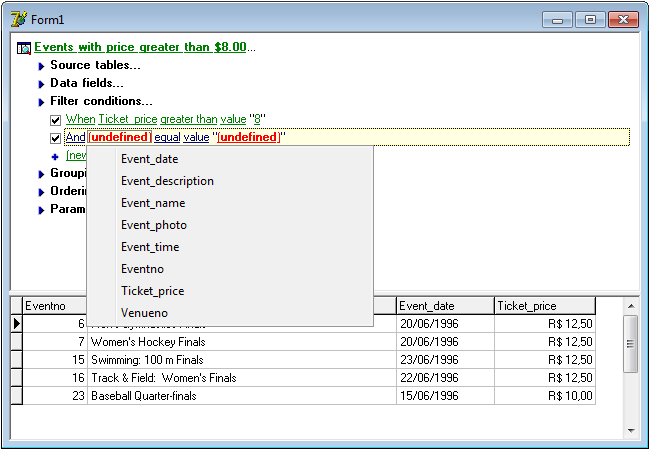 Help
What our customers say
In the past I have purchased other components from other parties. I will say proudly that TMS is the best in support, price and style. Whenever I need a help your team is always there to help me. Keep up the good work
Hi Bruno Just want to drop you a line about how great your presentation was today. We often fail to point out to someone when they do a great job! You did a great job, you gave me a lot of ideas, and you answered my question very well. THANK you for your great products & super support.
Thank you for developing components where I can best describe it like this: TMS components is a case where "The wheels fit the car, and NOT the car fit the wheels". Well done.
As always your support is extraordinary and lightning fast.
Great controls - Just like I remember from the project I worked on 1998-2003. The controls only got better
❮
❯

---
Compatibility
Delphi 7, 2007, 2010, 2009, XE, XE2, XE3, XE4, XE5, XE6, XE7, XE8, 10 Seattle, 10.1 Berlin, 10.2 Tokyo, 10.3 Rio, 10.4 Sydney, 11 Alexandria, C++Builder 2007, 2009, 2010, XE, XE2, XE3, XE4, XE5, XE6, XE7, XE8, 10 Seattle, 10.1 Berlin, 10.2 Tokyo, 10.3 Rio, 10.4 Sydney, 11 Alexandria (Professional/Enterprise/Architect)
---
Licensing
License for commercial use: Single developer license, Site license
Includes full source code
Ask questions to our engineers related to purchased product via Support Center
Free 1 year updates and new releases
After 1 year, a discount renewal is offered for a 1 year extension. *
* offer valid for 30 days after end of license. Discount price is subject to change.
---
Included In
Bookmarks
×