Blog
All Blog Posts | Next Post | Previous Post



Bookmarks:
Tuesday, December 8, 2020



We are proud to announce a new collaboration with the team from Abatic in Spain to assist users of Delphi in combination with TMS products. From today, Abatic is our consulting partner for Spanish speaking software developers and software development companies in Spain and Colombia. With our partners we aim to have experts nearby, in the same timezone and speaking the native language of our customers to help with consulting services. This can range from assisting with:


designing software architectures
choosing the best components for a task
developing projects or parts of projects or
adding resources to help with developing projects
offering training in specific TMS products
We are glad to start this partnership with Abatic as we are convinced their high expertise will offer excellent services for you. The team consists of 6 professionals including two Embarcadero MVP's: Emilio Pérez and Jhonny Suárez.


| | |
| --- | --- |
| | |
| Emilio Pérez | Jhonny Suárez |
Abatic is also an early adaptor of TMS WEB Core and in particular TMS WEB Core for Visual Studio Code and is even offering a training course and an ebook for it: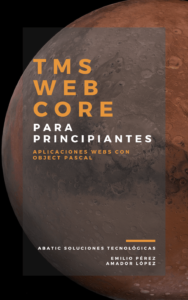 Among the broad expertise of the Abatic team are:

Delphi Developer Certified
2 Embarcadero MVP consultants in team
WEB Core web applications
VCL Windows applications
FMX cross-platform applications
Multi-tier database development
XData REST server + Aurelius ORM
On-site training / WEB Core training course
MySQL developer Certified
PostgreSQL DBA Certified
RAD Server
We are convinced this will strengthen the adoption of Delphi, of our components and will lead to better, richer and more sophisticated Delphi applications with TMS compoonents or web applications based on the TMS WEB Core framework. With the Abatic team closely in touch with Spanish speaking developers, our team will have the opportunity to closely listen to the feedback and wishes of the Spanish speaking community and steer our developments according to these needs.

If you are not Spanish speaking, don't worry, our consulting partner network is growing and feel free to have a look at the partner directory and get in touch and have a chat how they can help you.

At the same time, we would like to take the opportunity to mention that we still wish to extend our consulting partner network, foremost in the Asia area, Australia, Canada, South Africa. If you are Delphi developer with TMS component expertise and offering consulting services, get in touch and we will be happy to discuss how we can move forward!

Bruno Fierens
Bookmarks:
This blog post has not received any comments yet.




All Blog Posts | Next Post | Previous Post