Blog
All Blog Posts | Next Post | Previous Post



Bookmarks:
Thursday, October 8, 2020



It's a special year for our team as we celebrate the company's 20th birthday this month. We've come a long way over the years, so we wanted to celebrate this together with YOU!

Officially on October 17, 2000 the company tmssoftware.com bvba was registered in Belgium. tmssoftware.com bvba ws founded by Bruno Fierens to prepare his operations for the next steps and next level. Since the very beginning of Delphi in 1995, Bruno Fierens was operating as self-employed consultant developing and offering VCL components on the market.

On October 17, we plan to look back a bit more in detail on the history of the company but from today we start the 20 days action to celebrate our 20 year anniversary!



20% longer updates and support with licenses in the next 20 days
Yes, you hear that correct. For every license purchased (new license, upgrade, renewal) you receive 20% EXTRA time of free updates and free support coming with the product. So, products that come with free 1 year of updates and support, you now receive 20% more, or 438 days instead of 365 days (1 year).

This action runs for 20 days, from October 8 to October 28. It is offered to anyone, also loyal existing customers can purchase a renewal and will get an extra 20% renewal time. Also if you have licenses that are not yet expired, you can now already purchase a renewal and these 438 days will be added to your remaining free update & support period.



Your opportunity to get one of a limited edition run of 20 pieces of the book "Delphi Hands-on with TMS FNC Maps"
For our 20th anniversary we are producing a hyper limited run of 20 pieces only of a full color version of the "Delphi Hands-on with TMS FNC Maps" book. This book will have a special preface with a retrospective of the company written by Bruno Fierens and will be hand signed by the Belgian team.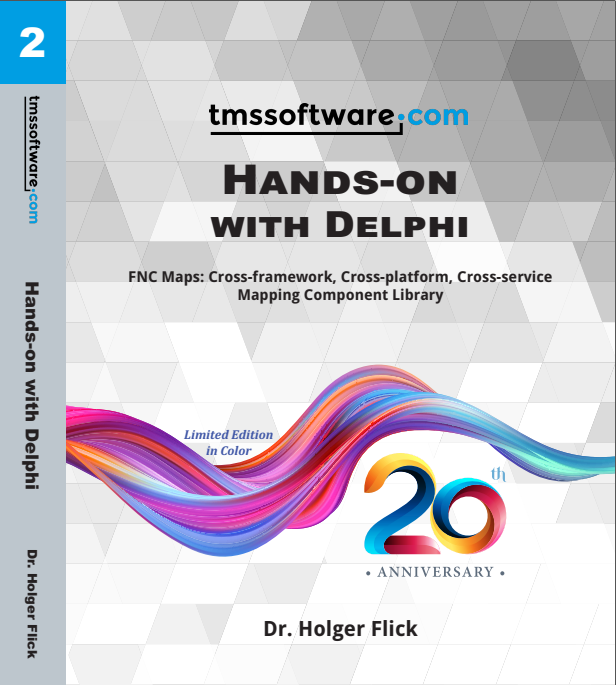 To get a chance to win one of these limited edition books, share an anecdote about the TMS team, the TMS products, TMS events or share a screenshot of your product, your favorite blog article... in the comments section under this blog or on our social media and win the brand new and limited edition TMS FNC Maps hands-on book in color!

Twitter:
Tag @TMSsoftwareNews & use following hashtags:
#tmssoftware , #delphi and #embarcadero

Facebook:
Tag @tmssoftware & use following hashtags:
#tmssoftware , #delphi and #embarcadero

YouTube:
Tag @tmssoftwareTV & use following hashtags:
#tmssoftware , #delphi and #embarcadero

Our team will choose from the most extraordinary or special anecdotes/comments found on this blog comment section or on our social media channels and give send the limited edition of the book to your home.

Celebrate TMS components with us this October.
We are proud of our big TMS family all around the world.
Thank you for the many years of trust. Looking forward to the next 20 years!



Masiha Zemarai
Bookmarks:
This blog post has received 7 comments.











All Blog Posts | Next Post | Previous Post