Blog
All Blog Posts | Next Post | Previous Post



Bookmarks:
Thursday, July 2, 2020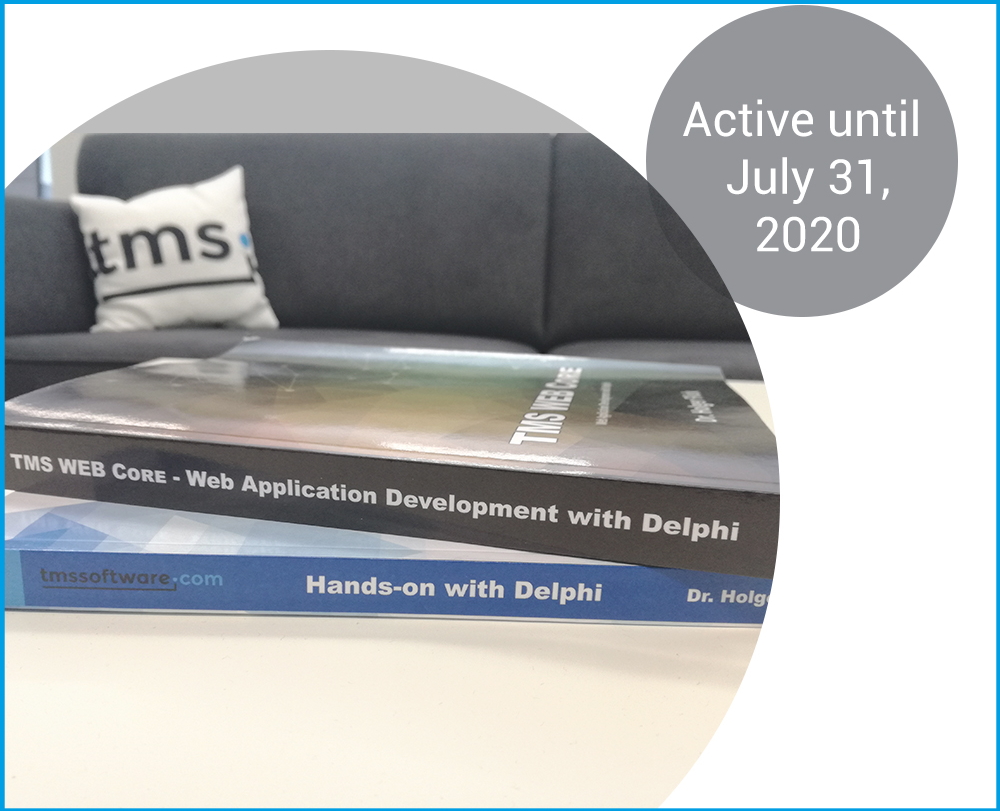 TMS ALL-ACCESS is your power toolkit to tackle any software development task today and in the future!

Discover our wide range of software development tools and get your books: TMS WEB Core: Web Application Development with Delphi
and TMS Software Hands-on with Delphi: Cross-platform Multi-tiered Database Applications: Web and Desktop Clients, REST/JSON Server, and Reporting
for FREE and with free shipping to your home!



For new licenses only and valid until July 31, 2020!





My benefits as an TMS ALL-ACCESS user:
No nonsense license to our entire product portfolio
Receive all new components, products free added to your toolbox automatically
Access to product betas
Huge savings compared to purchasing separate products
Includes free updates and support during your registration period
Support for the latest editions of Delphi and C++Builder is available
Enjoy the priority support services of our team
A renewal after 1 year is offered at 70% discount from new license price 1695 EUR
Tools and components included in TMS ALL-ACCESS for:
1st class VCL Windows applications.
1st class cross-platform FMX applications (Windows, macOS, iOS, Android).
1st class backend REST server applications (Windows, macOS, Linux).
1st class REPORTING to XLS, XLSX, PDF, HTML.
1st class modern web apps, progressive web apps, Electron cross-platform apps (Windows, macOS, iOS, Android, Linux, Web).


Purchase your TMS ALL-ACCESS license today and get the following TMS software books for FREE!

Get in-depth product knowledge and learn how to get more productive at writing better software and start your web project right away with:



Author

Since 1996, Dr. Holger Flick has been using Delphi as his primary development platform and has been an active member of the community.
In 2019, Holger established his new company FlixEngineering LLC. The company focuses on consulting, training and software development using object-oriented programming languages like Delphi, C#, Swift, and Objective-C. Holger is part of the TMS Software family providing his expertise as Evangelist and QA Engineer.

Masiha Zemarai
Bookmarks:
This blog post has received 4 comments.







All Blog Posts | Next Post | Previous Post