Blog
All Blog Posts | Next Post | Previous Post



Bookmarks:
Wednesday, May 13, 2020



We are pleased to inform that today, a free open-source package is available to you that offers Pascal wrapper classes for using over 40 Smart HTML Elements UI web components* with TMS WEB Core web client applications. For a list of these components, their features and how they work, head over to the HTML Elements online documentation.

These new Smart HTML Elements UI web components, part of the jQWidgets company, can be used together with any other TMS WEB Core components to create visually stunning web user interfaces. We created a demo that is included in the package: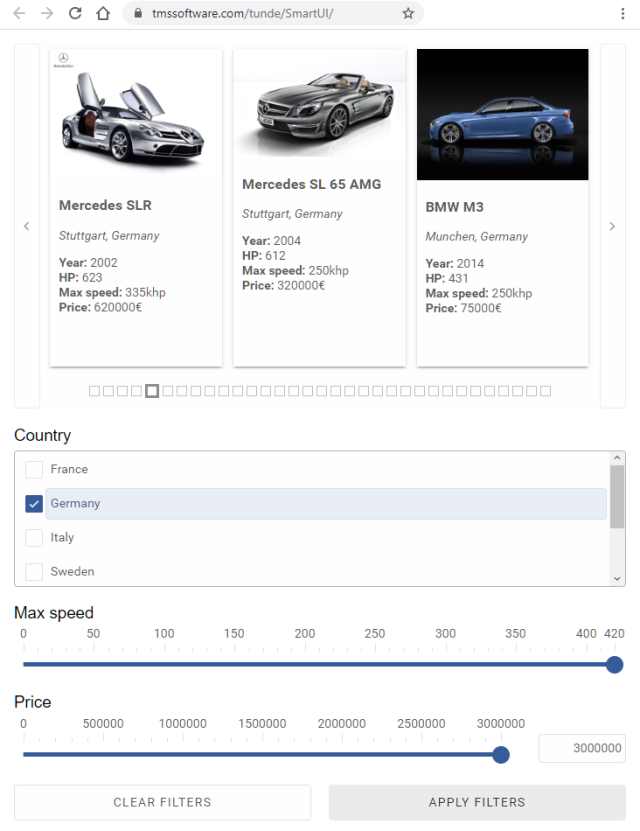 and you can also play with this demo online.

This new package is the result of our research to automate the importing and creation of Pascal wrapper classes for use at design-time with TMS WEB Core in the Delphi IDE. The background of this research is discussed in much more detail in another blog article. We believe that the result of this research is not only that you have now the chance to use a wide extra range of components, but the source code for the Pascal wrapper classes should also give you an insight how you can create your own wrapper classes for other existing web components. And we also hope that this research will yield in the near future also the further additional open-source packages of extra web components for your use with TMS WEB Core. After all, we strongly believe in the freedom of choice. TMS WEB Core is born out of this belief and freedom of choice is in its DNA. Before we had written the first line of code for the TMS WEB Core framework, we had this vision that we wanted a freedom of choice for:


UI widget set: choose the UI web components, look & feel, HTML template based or not
IDE: choose the IDE you want on the operating system you want for your development
Backend: choose any backend technology you want

It won't stop here. The road is long and adventurous. Our team is always looking out for your inputs, ideas, thoughts for future developments on TMS WEB Core, be it for widget sets, development experience in the IDE or use of backend data & services.

Get started today extending the range of UI controls for TMS WEB Core by downloading this package and follow the instructions in the included manual to obtain the Smart HTML Elements and enjoy:
Download

*) While the Pascal wrapper classes are free and open-source, your usage of Smart HTML Elements in your commercial web applications might require a license. Contact jQWidgets for your licensing questions.

Bruno Fierens
Bookmarks:
This blog post has received 19 comments.













All Blog Posts | Next Post | Previous Post