Blog
All Blog Posts | Next Post | Previous Post



Bookmarks:
Wednesday, April 1, 2020
Intro
After all our experience with TMS FMX/VCL WebGMaps & WebOSMaps, and the latest and greatest technologies we've been working on in FNC & WEB, we thought by ourselves what would be the next logical step? We wanted to feel the power of dynamically switching between various mapping services on mobile. We wanted to have access to step-by-step directions in a browser. We wanted to have an out of the box, worry free experience to provide mapping, directions and geocoding in one big library/component set that works on 4 frameworks and a lot more operating systems.

We wanted to create a component where you are not tied to a fixed mapping service provider but make it as easy as changing a property to switch to another provider. When a provider raises prices, reduces functionality or when another provider starts providing better routing, change one property setting in your application and you are up & running with another mapping service provider.




Cross-framework, cross-platform, cross-service
Introducing for the first time ever: TMS FNC Maps! You all know how the saying goes:


"A picture says more than a thousand words"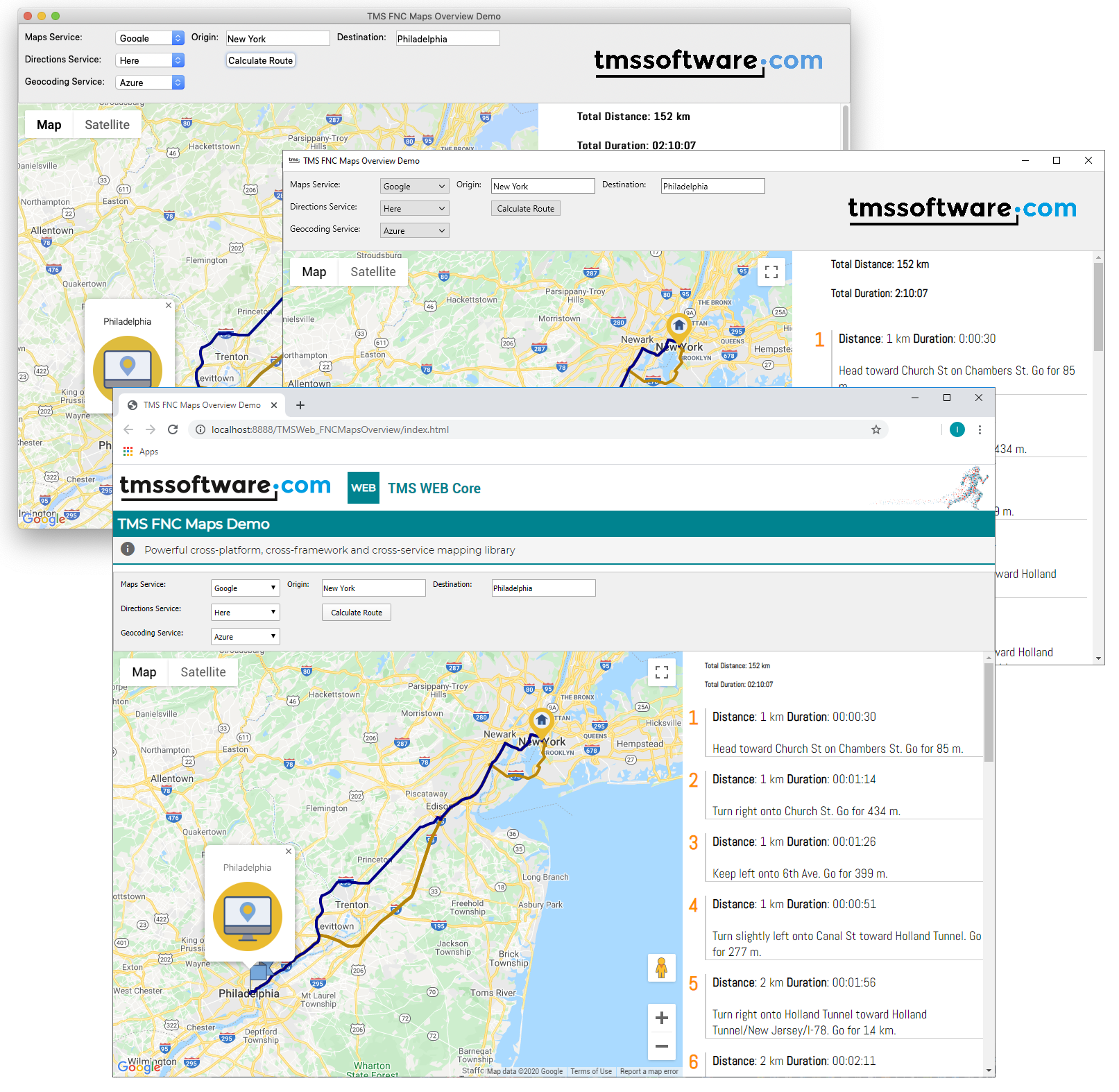 And as a cherry on the cake, we've created a video that shows a quick overview of what TMS FNC Maps has to offer and which features are supported.




Supported services & features
Below is a list of features and services that TMS FNC Maps supports. As said in the video, with these features we aim for 1.0, but 1.0 is just the beginning, and many more features and map services will be added in the future. Please let us know if you have a service or feature of a specific service that you want to see available in TMS FNC Maps.

List of services for mapping, directions and geocoding

Google
Here
Microsoft Azure
Microsoft Bing
TomTom
MapBox
OpenLayers
List of features
Directions/Routing (TTMSFNCDirections)
Options for configuring alternative routes, step by step directions, …
Geocoding (normal, reverse) (TTMSFNCGeocoding)
Getting current location (TTMSFNCLocation)
Maps (TTMSFNCMaps)

Polylines
Polygons
Markers
Circles
Rectangles
Zooming, centering
Loading GPX, GeoJSON
Various Events

Google Maps (TTMSFNCGoogleMaps)

Inherits from TTMSFNCMaps
Load KML
Editing of polylines, polygons, circles and rectangles
Dragging of markers
Traffic
Themes (Night, …)
FNC
Please remember, TMS FNC Maps will be part of the FNC family and FNC is a cross-platform / cross-framework component library. Write your code once and target multiple operating systems!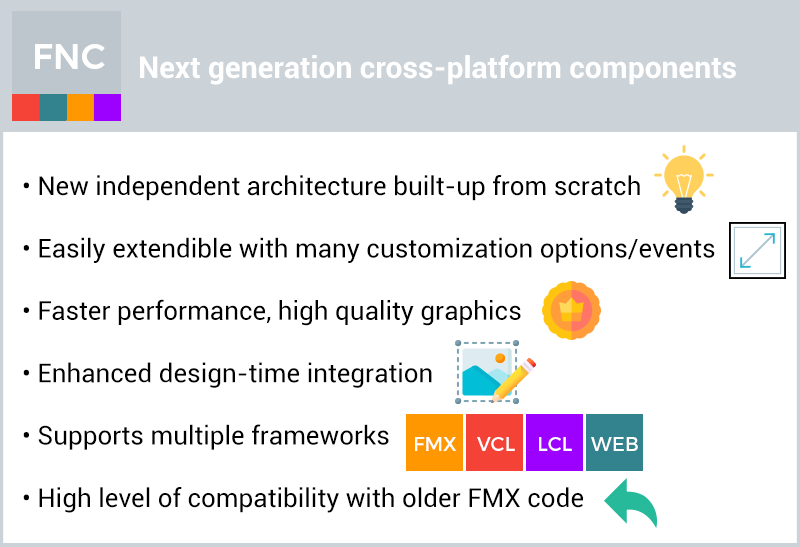 Breaking changes!
To get the best out of TMS FNC Maps and make all of this work together we've introduced breaking changes and moved the TMSFNCCloudBase unit from TMS FNC Cloud Pack to TMS FNC Core. This means that each FNC product will have access to this unit and this allows you to consume your own REST service, download/upload files without the need for TMS FNC Cloud Pack.


Stay tuned!
More is coming in the next days, weeks and we are currently hard at work to make a 1.0 available as a BETA to all TMS ALL-ACCESS users, so stay tuned!, and again, feedback is highly appreciated so don't hold back!

Pieter Scheldeman
Bookmarks:
This blog post has received 7 comments.








All Blog Posts | Next Post | Previous Post