Blog
All Blog Posts | Next Post | Previous Post



Bookmarks:
Tuesday, December 20, 2016
(Este link em português)

Intensive Delphi 2016 is happening right now. It's the biggest online Delphi event in Brazil, and it's free for everyone! Already started on Monday, 19th and going on until 24th, it's six days full of sessions about the most different topics: Mobile development, Rest/JSON servers, Firemonkey, VCL, Beacons, Arduino, best practices, and many many more.

To access the conference, use the follow link: Intensive Delphi 2016 Official Link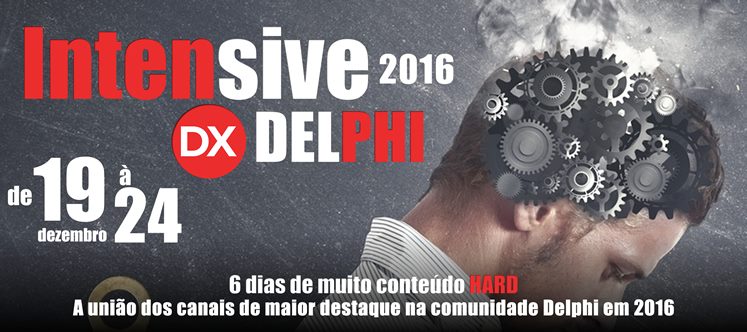 Each day starts as early as 8 am local brazilian time, and goes on until up to 10 pm at night. Outside the official schedule for session streaming, sessions replays are provided in those alternative schedules. The chat windows is available for you to interact with speakers at specific session times, specially at night (brazilian time).

There will be sessions available in both Portuguese (most of them) and English.

More than 25 speakers and counting will be present at conference, including Marco Cantu, Jim Mckeeth and, from TMS Software, Wagner Landgraf with a session about TMS Business product line. The TMS Business session schedule is Thursday, 22th, 8 pm brazilian time (UTC-02:00) and Wagner will chat with attendees. Here is the full list of speakers in alphabetical order:

Adriano Santos
Alan Glei
Alan Victor (Bruto do Delphi)
Alister Christie
Amarildo Lacerda
Boian Mitov
Carlos Agnes (Tatu)
Emanoel Deivison
Jackson Gomes
Jim Mckeeth
Jonatan Souza
Jorge Eduardo
Kelver Merlotti
Kleberson Toro
Laercio Guerco
Landerson Gomes
Marco Cantu
Marcos Moreira
Marcus Vinicius
Mauricio Abreu
Newton Oliveira
Regys Silveira
Ricardo Boaro
Rodrigo Mourao
Samuel "Muka" David
Thulio Bittencourt
Wagner Landgraf (TMS Software)




Wagner R. Landgraf




Bookmarks:




This blog post has not received any comments yet.




All Blog Posts | Next Post | Previous Post