Blog
All Blog Posts | Next Post | Previous Post



Bookmarks:
Friday, January 11, 2013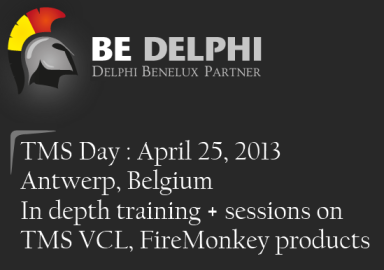 It's a fact, in cooperation with Be-Delphi, organizer of the Be-Delphi Delphi developer events, we will be organizing the first TMS Day on April 25, 2013 in Antwerp, Belgium.

The TMS Day will bring all TMS experts together: Bruno Fierens (Embarcadero MVP / CTO TMS software), Adrian Gallero (Product Manager TMS Flexcel), Wagner Landgraf (Product Manager TMS Aurelius, TMS Scripter, TMS Diagram, TMS Workflow) , Pieter Scheldeman (Tech lead FireMonkey products) for in-depth and personalized training on TMS Delphi & C++Builder products.

In order to ensure technical focus, participation during sessions and personalized information, the number of places will be very limited. We aim at 20 attendees with an absolute maximum of 25. Attendees will also be able to submit questions in advance so speakers can devote time to prepare topics for the TMS Day and sufficient time will be allocated for Q&A the day itself. In short, we want to make it a highly valuable event for TMS customers.

Some of the topics that will be covered are: TMS VCL grid, TMS FireMonkey components, TMS Aurelius, TMS Flexcel. Detailed program is being worked on.

Registration for the event will open soon. Prices will be kept at an absolute minimum just to cover organisational costs in the range of 200EUR/seat. Facilities for hotel rooms at the event will be available for international attendees. If you have any questions, don't hesitate to contact us.


Bruno Fierens
Bookmarks:
This blog post has not received any comments yet.




All Blog Posts | Next Post | Previous Post