Blog
All Blog Posts | Next Post | Previous Post



Bookmarks:
Tuesday, September 06, 2011
On Thursday Sept 8, TMS software will be present at the CodeWay Tour in Paris where Delphi XE2 will be shown and on Saturday Sept 10, TMS software will be present at the Delphi Tage in Köln for the yearly celebration of the German Delphi community. We thought this was a good opportunity to give attendees an exclusive sneak peek at three upcoming new TMS products for Delphi!

TMS MultiTouch SDK
The TMS MultiTouch SDK allows you to take advantage of the rich multi touch and Direct2D capabilities in Windows 7 and Delphi. The component set makes it easy to create Microsoft Surface style graphically rich multimedia or interactive point of sale systems in a RAD way. One of the controls is a multitouch region control that allows you to interact with various item types and perform actions like move, size, scale, rotate. Such applications can be created with nearly no code to write. In Paris and Köln this will be demonstrated on our own SmoothTable device we created for this, sporting a 32" HD multitouch screen. We'll offer the device itself also as a product in 32" size but also in larger sizes up to 60" with optional RFID reader integrated. 5 demos will be running showing the various capabilities of the SDK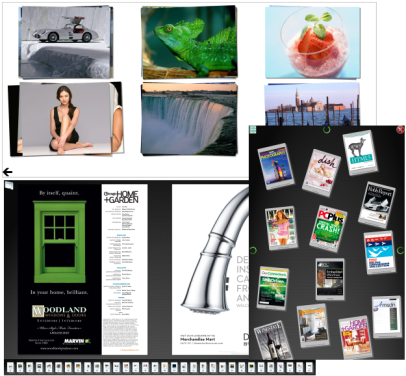 TMS IntraWeb HTML5 Chart
This is a first control in a series of new IntraWeb controls taking advantage of the rich HTML5 graphical capabilities. The chart uses the HTML5 canvas to draw and is very efficient in browser-server communication. It includes various asynchronous events triggered when parts of the chart are clicked and in return, can asynchronously update single serie values, an entire serie or any property of the chart. The result is low-bandwidth usage and thus very fast chart updates. The HTML5 chart is working equally well on mobile devices such as iPad, iPhone and Android:

TMS WebGMaps
This is a new component to allow to integrate Google maps in VCL Windows applications. From Delphi code you can easily interact with a map, control a wide range of properties, navigate, set all kinds of markers and at the same time all interaction with the map is redirected back to the Delphi application via events. This way, embedding geographical information in Delphi Windows applications becomes very easy.


Come and see demos for all these new products in either Paris or Köln. Our team is working hard on all finishing touches of these new products, doing rigid testing, creating demos and writing extensive documentation. We expect releases of these new products in the coming weeks. We eagerly look forward to all your comments, further wishes and suggestions on these three new products.

Bruno Fierens
Bookmarks:
This blog post has received 25 comments.














All Blog Posts | Next Post | Previous Post