Blog
All Blog Posts | Next Post | Previous Post



Bookmarks:
Tuesday, April 12, 2011
When writing documentation for your projects, components etc..., source code snippets are indispensable to clarify things. Sadly, when performing a "Copy to clipboard" from the Delphi IDE code editor, this is copied to the Windows clipboard as plain text. Pasting this into MS Word, a CMS or in another webpage editing tool leaves us with dull single-colored text. For years, we then tried to resort to tools like an MS Word macro to reapply syntax coloring, a Javascript library that performs syntax coloring directly on the web page or something like YAPP.
Now, wouldn't is be much faster and more convenient if we could, just like in Visual Studio, copy a snippet of code to the clipboard and just past it immediately in MS Word or a web page with syntax coloring applied? We've just released a free plugin for Delphi 2010 or Delphi XE that allows you to do just that.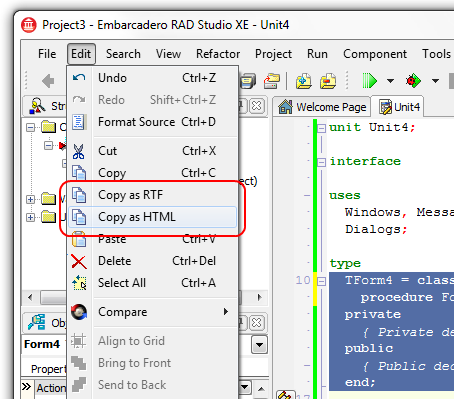 After installing this IDE plugin, you have two new items in the IDE main Edit menu as well as the editor context menu: Copy as RTF and Copy as HTML. Simply select some source code in the editor and choose "Copy as RTF" and paste in MS Word and you immediately have a syntax colored code snippet in the MS Word document. Or choose "Copy as HTML" and paste in a web document with all Delphi code coloring applied.
Enjoy this free plugin!



Bruno Fierens




Bookmarks:




This blog post has received 13 comments.











All Blog Posts | Next Post | Previous Post