Blog
All Blog Posts | Next Post | Previous Post



Bookmarks:
Thursday, October 21, 2010
For all developers in the Netherlands and Belgium, an interesting workshop is planned on December 8, 2010 in Utrecht. You'll get a hands-on training on getting the most out of Delphi. We're pleased to have been invited as well to provide a training session on our components. In our session we're going to show how you can use the TMS Poly List Controls to create the new Office 2010 application menu in Delphi. Creating modern & fresh Office 2007 / Office 2010 user interfaces has never been that easy!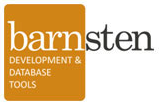 Full details about the event can be found at: http://www.barnsten.com/events-agenda.aspx?item=195.
We're looking forward to see you at the event!



Nancy Lescouhier
Bookmarks:
This blog post has not received any comments yet.




All Blog Posts | Next Post | Previous Post