Blog
All Blog Posts | Next Post | Previous Post



Bookmarks:
Wednesday, February 10, 2010
We've been working hard internally on new software to make the life easier of our customers who bought product bundles like TMS VCL Subscription or TMS Component Studio.
The goal was to provide a tool that would allow our customers to get access to the latest versions of the products in their subscription, download these and install these in the fastest and most convenient possible way. The tool can be used for a first time installation of all products after purchase as well as use it to check if updates are available and if so, download and install the updates. With minimum effort, minimum hassle, a customer can install this way a huge component library such as TMS VCL Subscription in 15 to 25 minutes (depending on bandwidth and machine).

We have tried to keep the tool really simple. First of all, a customer provides the registration email & code and performs a login: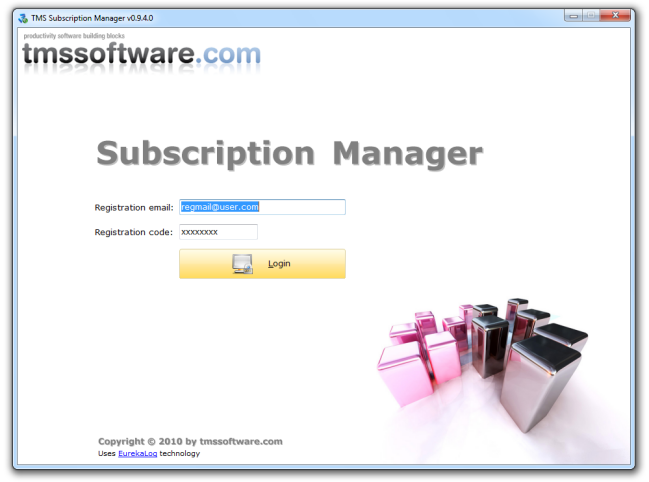 After login, all products that are part of the subscription are shown and divided in three categories: the installed products, the downloaded products and the products not in use. On the detail panel, the product description, version, download size is shown and whenever a newer version of a product is available than the already downloaded or installed version, this is indicated with a "star" icon and an iPhone style bubble indicator: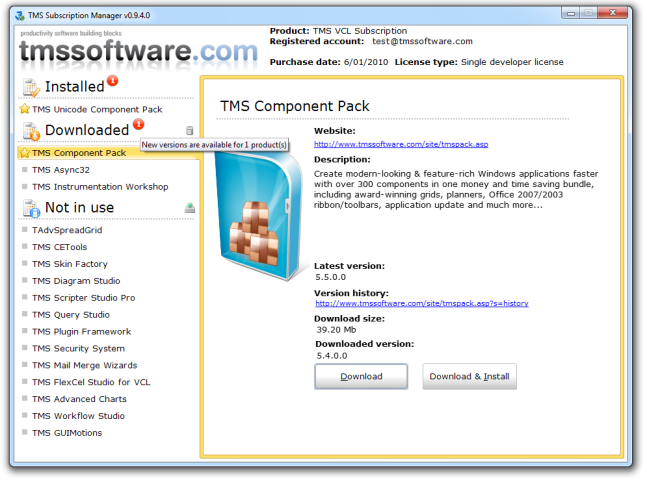 From here, it can be chosen to download a product, download all products or download and install a product. When new products are added to a subscription, these will also automatically appear after login. At the same time, the software will inform when a subscription is about to expire and will automatically & conveniently guide the customer to a discount renewal offer.
We're currently doing the last testing and last finishing touches on the software. This is also an invitation to a select few customers who want to test the software and can provide feedback. Please contact us by email and we'll inform how to obtain the new TMS Subscription Manager software.


Bruno Fierens
Bookmarks:
This blog post has received 7 comments.








All Blog Posts | Next Post | Previous Post