Blog
All Blog Posts | Next Post | Previous Post



Bookmarks:
Friday, December 18, 2009
For a change, we do not announce a new component today, but two free IDE plugin's for Delphi. The first plugin we'd like to present is the TMS Presentation Helper & Clipboard Monitor. This IDE plugin serves two purposes. First of all, it is a code snippet organizer to help users who do a presentation with Delphi. Most typically, to help doing a fluent presentation, elaborate code is prepared in advance and during a presentation, it is pasted in the sample application. Often something like Notepad or an external tool is used for this. Now, with our IDE plugin, all code snippets are directly accessible and can be managed from the IDE. During a presentation, all you need to do is drag & drop the code snippet from the TMS Presentation Helper panel to the code editor.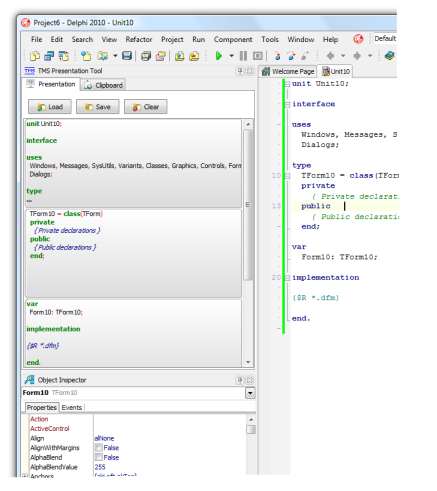 This plugin also serves as a clipboard history list. A second pane in the plugin, can monitor all text that is put on the clipboard during editing. At any time, you can go back in the history and reuse parts of code or DFM file settings that you put on the clipboard. This way, you can for example cut multiple items to the clipboard and restore in the order you want.

A second plugin allows you to stay in touch with all the latest news of TMS software as it happens from the IDE. As soon as we have released a new component or an update to a component, you can see the information in an IPhone style list and can navigate to see the details & description of the new release. Similarly, when we have written a new article on our blog or did a tweet, you instantly see a notification in this IDE plugin.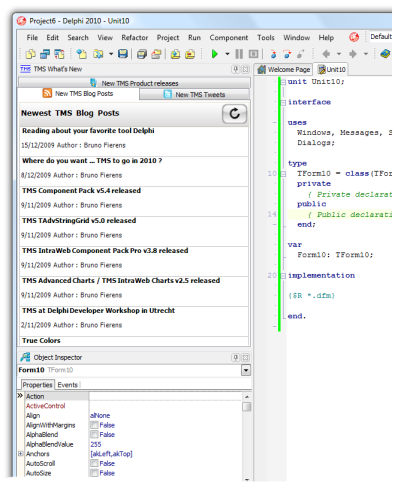 Now, you no longer have an excuse to miss something new from the TMS software labs. You can download this free IDE plugin now for Delphi 2006, 2007, 2009 & 2010. Enjoy!


Bruno Fierens
Bookmarks:
This blog post has not received any comments yet.




All Blog Posts | Next Post | Previous Post