Blog
All Blog Posts | Next Post | Previous Post



Bookmarks:
Wednesday, September 16, 2009
We're pleased to inform a new set of VCL controls has been released today. TMS Advanced Dropdown Controls offers a set of highly configurable and modern-looking dropdown controls. It includes: a time picker with watch to pick time, color picker with various color selector modes, dropdown with grid, Google addressbar-like detail dropdown control, memo dropdown, trackbar dropdown, edit control with embedded dropdown calculator, image picker and an edit control that allows to assign any TCustomControl descendent control as dropdown control.

Screenshot: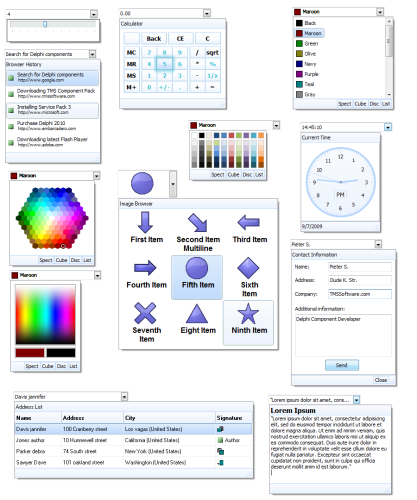 Features:

Built-in Office 2003/2007/Windows Vista/Windows 7 styles
Dropdown can have optional header or footer with HTML formatted text
Dropdown can be sizeable
Editor can be readonly or not
Allows to add range of custom buttons in both header and footer
Dropdown with any TCustomControl descendent
Multi-column dropdown control included
Google addressbar like detail dropdown list with support for HTML formatted text, images,...
Different color picker dropdown controls
Time picker dropdown with interactive watch
Fully functional trial versions for Delphi 6,7,2005,2006,2007,2009,2010 & C++Builder 6,2006,2007,2009,2010 are available at https://www.tmssoftware.com/site/advdropdowncontrols.asp.
This set of new controls will also be included in the next scheduled update of the TMS Component Pack.
We hope this new set of controls will further enrich your applications and we look forward to your ideas & feature requests to continue the development.

Bruno Fierens
Bookmarks:
This blog post has not received any comments yet.




All Blog Posts | Next Post | Previous Post