Blog
All Blog Posts | Next Post | Previous Post



Bookmarks:
Friday, August 11, 2023
With Embarcadero mentioning an upcoming RAD Studio 12 at https://www.embarcadero.com/radoffer , I sat down to reflect on where we come from and where we might go to and how to align our focus with what Embarcadero has in the store in the near future for us, Delphi developers.

As part of this reflection, I revisited the statistics we collect from the trial downloads of our products. Since we have different trial version downloads of our Delphi products for different Delphi versions, these download statistics should be a good indicator of what Delphi versions our users mostly use. Hard to say whether this represents a reliable insight on real total Delphi usage, but at least it says something about the version Delphi developers interested in our products use most.
First time over 50% on a latest Delphi IDE in July!
So, I looked at the stats for 2023 per month and you can see that the last three Delphi editions represented slightly more than 50% of usage. Delphi 11 was in January 2023 at 28%.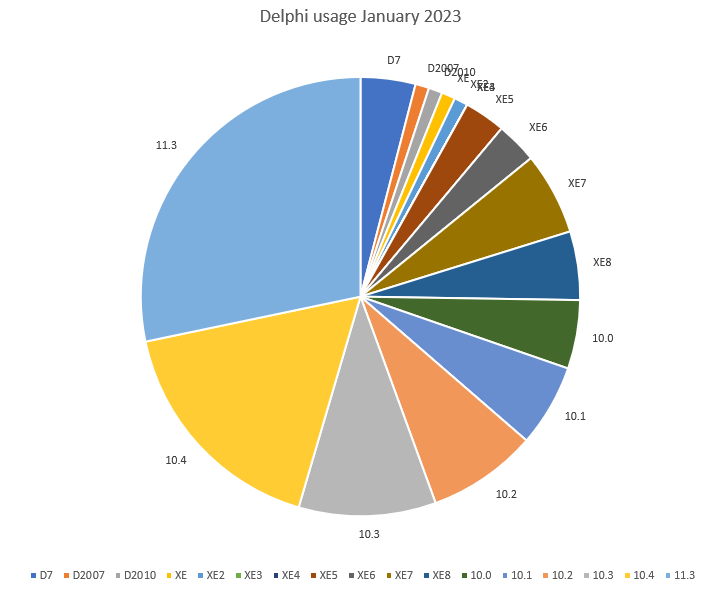 The picture looks in July 2023 already dramatically shifted. The last 3 editions now represent approximately 75% but Delphi 11 reached over half of the different Delphi versions, with now a whopping 54%!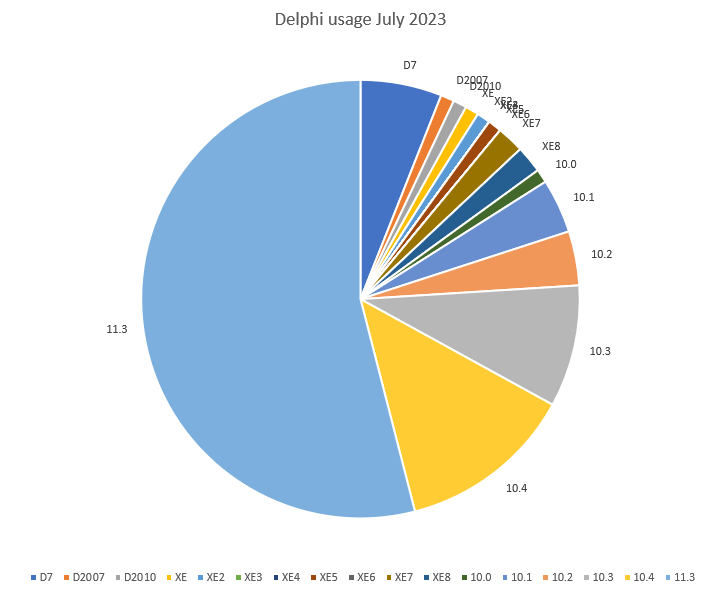 Stable growing trend
If we look at the percentages for Delphi 11 from January till now, it started at 28% in January to 54% in July with a quite stable growth curve.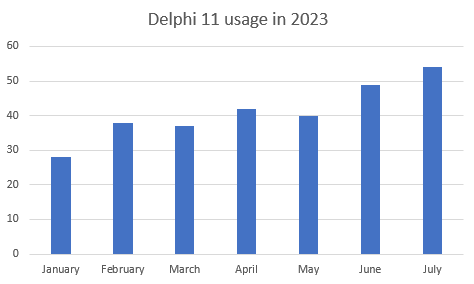 Having a preliminary look at the numbers for August, further confirms this trend, with at this moment being at 68%.
Delphi 7?
With mixed feelings, we look at the results for Delphi 7. For our entire product offerings, it still accounts for 5% in July and through this year 2023 remained more or less stable. The global Delphi 7 stats are also somewhat skewed, as several newer products like TMS BIZ, TMS WEB Core,TMS FNC components do not support Delphi 7. When we look at a product like TMS VCL UI Pack, here Delphi 7 still accounts for 9% but Delphi 11 is in July already at 47%. The question is, at what % is it justified to finally give up on Delphi 7 ?
What do you think?
So, all in all, we believe this is a good and positive trend that the newest versions of Delphi are picked up very well. The new versions are definitely being picked up faster than let's say 10 years ago. We are curious to see how these trends will evolve.
Where are you in your Delphi path? Are you on the latest version? Is something holding you back in an older version? Do you still need Delphi 7? What is your opinion on focusing on newer Delphi versions only and how important is using newer Delphi language features in component code for you? So many things to consider. Let us know!
Bruno Fierens
Bookmarks:
This blog post has received 10 comments.















All Blog Posts | Next Post | Previous Post