Blog

Most Recent Post | Next Post | Previous Post | Index List



Bookmarks:
Thursday, July 26, 2018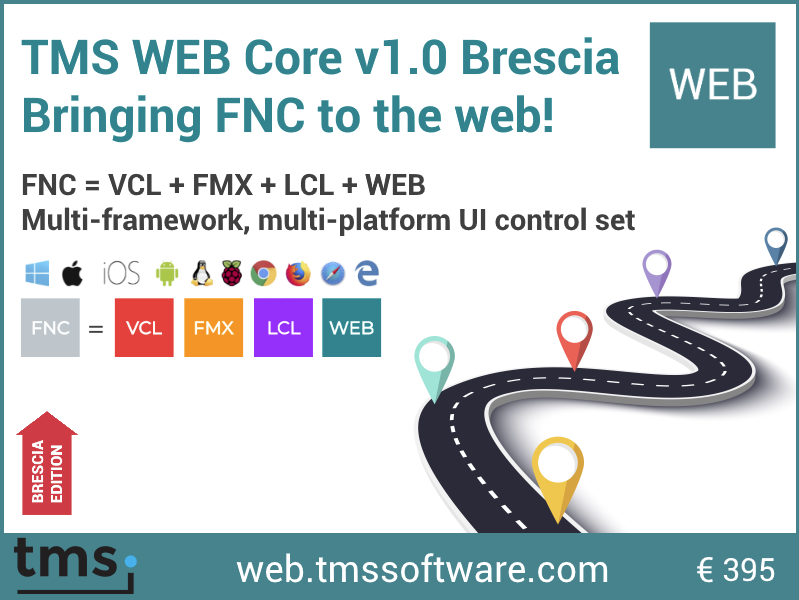 Yesterday, we released TMS WEB Core v1.0 Brescia edition. This brings RAD component based development of web client applications from the Delphi IDE. TMS WEB Core is designed to be open. It comes with numerous built-in UI controls that are close equivalents to standard VCL controls like TButton, TListBox, TEdit, TMemo, TStringGrid etc... In addition, TMS WEB Core comes with Pascal wrapper classes that allow you to use jQuery controls (we have a partnership with jQWidgets for this) and in the future, we'll bring much more wrappers around existing web controls. But for Delphi developers, there is an extra gem, the TMS FNC Controls.

It all started end of 2015 ...

We started developing the FNC architecture in 2015 as a UI control architecture that would allow to create UI controls from a single source code base that are usable from VCL Windows applications, FMX Windows, macOS, iOS and Android applications and also from LCL (the component framework in the free Lazarus IDE) for Windows, macOS and Linux.

With the FNC architecture, there is only one learning curve to master complex UI controls like a grid, planner, treeview, richeditor, ... in different applications using different frameworks, but you can also reuse your UI control logic through these different applications.

Opening a new world for FNC ...

Now, with TMS WEB Core, we have opened a whole new world for the FNC controls. Yes, we have web-enabled the FNC control architecture and that means that, from now on, you can use our FNC UI controls from TMS WEB Core web client applications.

FNC in action

To see the power of the TMS FNC controls, here you can find the FNC grid in the Delphi IDE used in a TMS WEB Core application: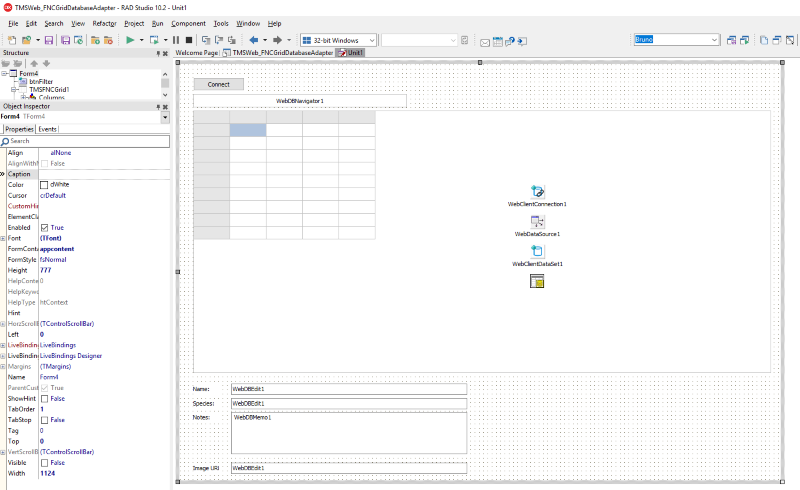 and it runs directly in the browser.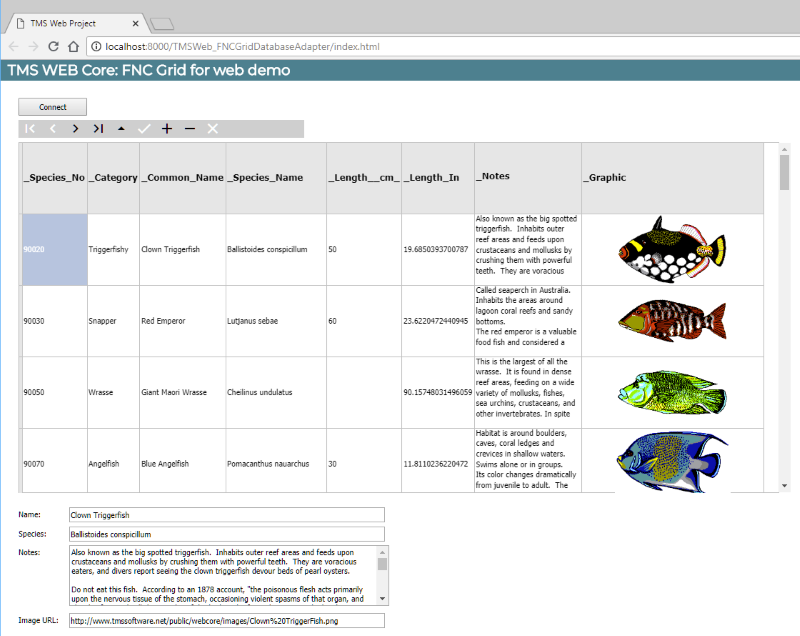 Or even better, just play with the demo yourself from your browser here

At this moment, the TMS FNC Chart, TMS FNC UI Pack and TMS FNC Dashboard Pack components will also show on the toolpalette and are ready for use in TMS WEB Core client applications. The FNC architecture is an open architecture. This means that you can also use it to create your own custom UI controls. You do this by descending from TTMSFNCCustomControl and by doing so, you will have a UI control that you will be able to literally use everywhere, from a Windows application to a Raspbian application, from an iOS app to a web application.

Learn more about TMS FNC controls via our and exploring the trial versions downloads available for Delphi & C++Builder.



Bruno Fierens




Bookmarks:







Most Recent Post | Next Post | Previous Post | Index List