Bookmarks:
Tuesday, June 02, 2015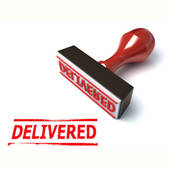 About 2 weeks ago we announced the upcoming new FireMonkey scheduling/planner component TTMSFMXPlanner here and revealed the first details about it. For quite some time, this was the number one requested component. Today we are excited to confirm its availability as part of TMS Pack for FireMonkey v3.0. So, we are happy to deliver on your requests. But there is more. Check here what TMS Pack for FireMonkey v3.0 brings:

TTMSFMXPlanner v1.0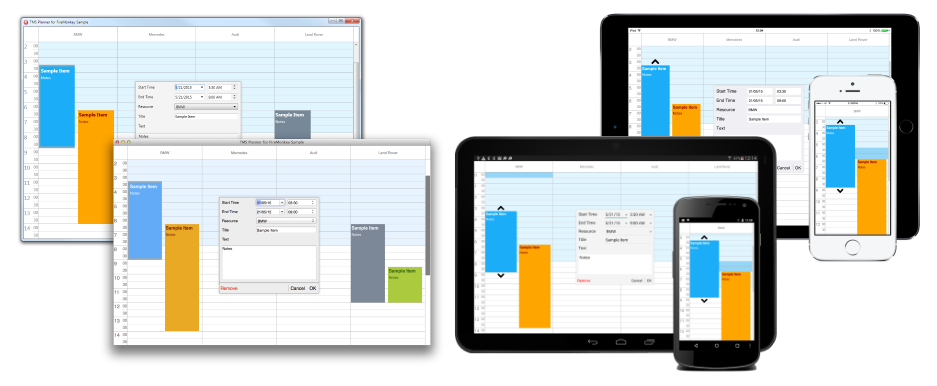 Targetting Windows, Mac OS-X, iOS and Android devices, fine-tuned for desktop and mobile use and packed with features is our new scheduling/planner control TTMSFMXPlanner. It's suitable for a wide range of use-cases, from single resource day planning to multi-resource scenarios with fully customized timeline. In combination with TMS Cloud Pack for FireMonkey, it offers seamless connectivity to a cloud calendar like Google calendar or Microsoft Live calendar. Read more about TTMSFMXPlanner in this blog, the developers guide or check out the fully functional trial version.

TTMSFMXRatingGrid v1.0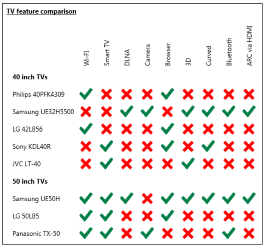 Also new in TMS Pack for FireMonkey is this control for capturing ratings for different items, making questionaires or for presenting feature comparison lists. It supports customizable tickmarks, radiogroup or checkgroup behavior for items.

TTMSFMXPassLock v1.0


To protect the use of your applications or access to certain parts of your application, the TTMSFMXPassLock is a component for input of a configurable length pass code or pass pattern. One property controls in what mode the pass code can be entered and the component features a pass code learn mode as well. An event is triggered when the pass code is correct or wrong.

Other improvements

Other than these 3 new controls, there are several improvements to existing components as well. The full version history is here.

More good news

And to round up the good news, all customers with an active registration for TMS Pack for FireMonkey receive this v3.0 free. For customers with an expired registration, a renewal discount of about 50% is available for 30 days.

Call to action

Add your feature request or vote on existing feature requests. It is one of the tools that help us align our development efforts with your needs.



Bruno Fierens




Bookmarks:




This blog post has not received any comments yet. Add a comment.
Bookmarks:
Saturday, May 23, 2015
We're thrilled to introduce to you the TMS Planner for FireMonkey, in short TTMSFMXPlanner that has been in development for many months and that is near to being released now.

While TMS Planner for FireMonkey design benefits from the significant experience the TMS team built-up with the award-winning VCL, IntraWeb and ASP.NET Planner components, the new component has been architected from the ground up for cross-platform, multi-device usage. This includes tuning for performance & footprint to run smoothly on Android or iOS smartphones and making the component flexible enough for complex scheduling applications in desktop or tablet applications.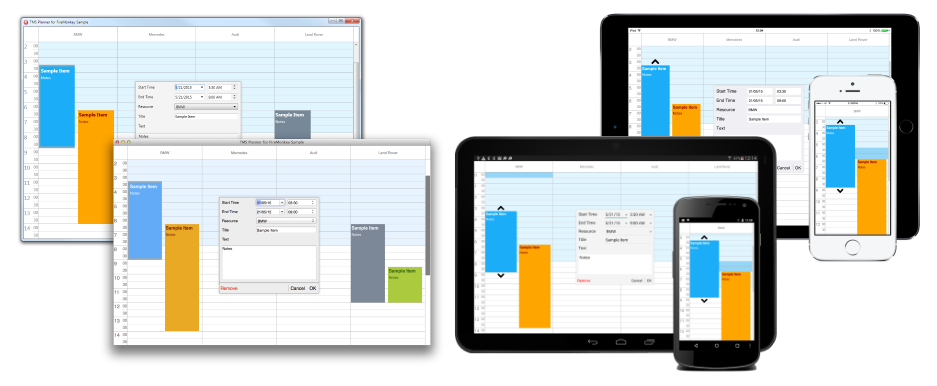 In a nutshell, the TMS Planner for FireMonkey is a user-interface control representing a timeline and events for single or multiple resources.

Timeline
The timeline in the TTMSFMXPlanner is configurable. Default, it represents the standard 24hr timeline but this can be easily changed to month mode, a day period mode, a half-day period mode, multi-month mode or a custom timeline mode. With the custom timeline mode, the unit of time along the timeline can be fully programmatically set. In one of the included demos will be a timeline in seconds mode that represents a schedule of TV-adds.
Within the displayed timeline, the TTMSFMXPlanner has the notion of active and inactive time, typically used for open office hours that can be shown in a different collor as well as various ways to to display the actual time on screen. In addition, for period, month, multi-month modes, specific days of the week can also be set as inactive time.

Resources
The TTMSFMXPlanner can display events for a single resource or can deal with multiple resources. Multiple-resources can be displayed in different columns (when the timeline is vertical) or different rows (when the timeline is horizontal). But there is more. Views with multiple resources can be combined with multiple days. In this way, multiple resources per day and multiple days per resource can be shown. And in addition to this, there is also the flexible capability to create groups of a different nr. of resources or days, like grouping a number of days in a week or grouping a number of resources to a company etc...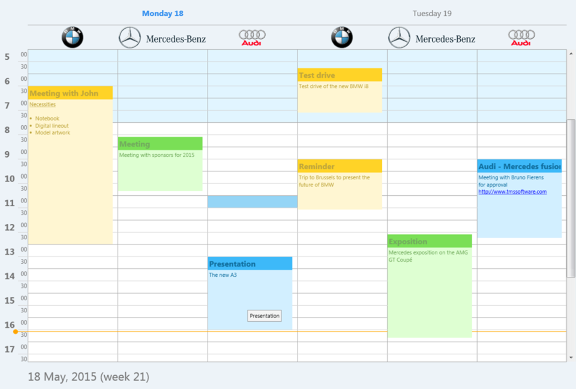 Event Editing
Also for editing events in a TTMSFMXPlanner view, we went to great lengths to offer built-in easy to use and flexible to customize editing capabilities. First of all, changing the start time, end time or dragging the event to a different day or resource is optimized for both classic desktop mouse & keyboard interaction as touch based mobile device operation. Editing of event notes can be done via inplace editing or via a popup dialog. Both inplace editing and use of popup dialogs can be fully customized.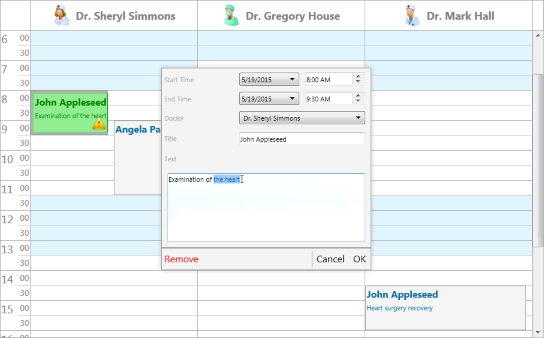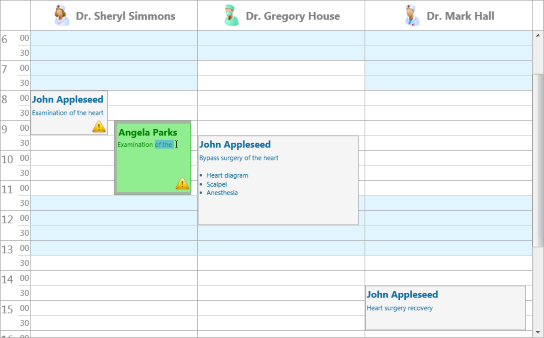 Cloud connectivity
If you want to hookup your TTMSFMXPlanner to a cloud calendar service, we have the adapters ready for you that let you interface the TTMSFMXPlanner to a Google calendar or Microsoft Live calendar. This is achieved by an adapter that interfaces the TTMSFMXPlanner via TTMSFMXPlannerGoogleAdapter or TTMSFMXPlannerLiveAdapter to TMS Cloud Pack components for access to these cloud calendar services.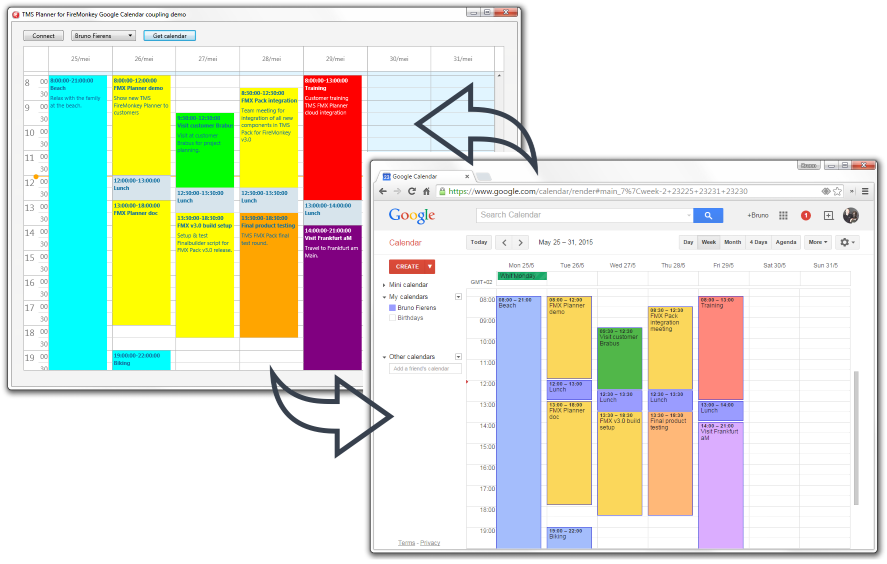 Customization
We realize that scheduling applications all have different rules and particularities. Therefore, the TTMSFMXPlanner has overall extensive customization capabilities. From putting custom text in timeslots, defining event conflict handling, restricting events to resources, custom drawing over events, timeline, resource header, editing validation and much much more. And of course, the TMSFMXPlanner also visually automatically integrates with the selected FireMonkey application style.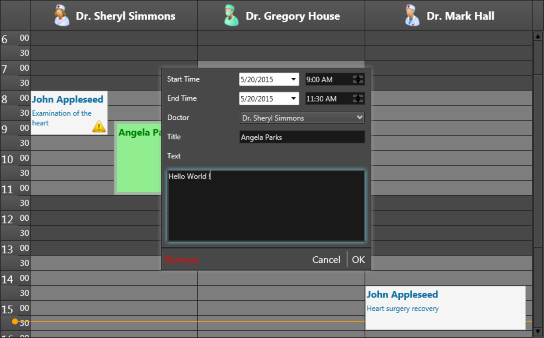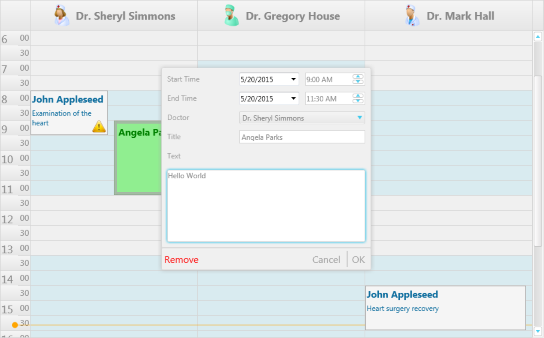 All this and more is coming to you in the next major release of TMS Pack for FireMonkey. This new version will be free for all active registered users.



Bruno Fierens




Bookmarks:




Bookmarks:
Tuesday, August 28, 2012
On Saturday September 1 near Utrecht, Blaise Pascal Magazine is organizing the free PasCon: Pascal Conference day. I am very honoured that I was invited to do a session about one of our most exciting recent developments, the TMS Grid for FireMonkey.
In the session on the Pascal Conference, I will highlight the architectural decisions, the challenges in developing large and high performance style-able components for the FireMonkey framework, the feature set of the grid and I will present an exclusive first look at the LiveBindings capabilities that will be built-in in the next update of the grid that we will release shortly.
If you're around, feel free to register for free for the great Pascal Conference and come by as there are interesting sessions about Smart Mobile Studio and FastReport too.
Of course, it is also a great opportunity to meet and discuss about other TMS components and developments, ask questions, provide feedback in the time between the sessions. Looking forward to meet you there.



Bruno Fierens




Bookmarks:




This blog post has not received any comments yet. Add a comment.
Bookmarks:
Monday, July 16, 2012
After many months of research, developing, testing, polishing and documenting, the team at TMS software is proud to announce the availability of our first TMS FireMonkey cross-platform grid!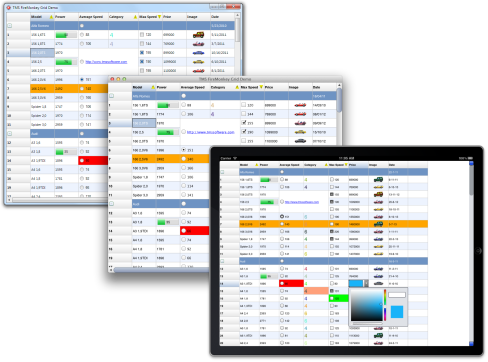 Ever since Delphi XE2 was released, we regularly received emails from customers asking when our immensely popular VCL component TAdvStringGrid would be available for FireMonkey. Now, TAdvStringGrid is the result of over 15 years of work. It is built specifically for the Windows platform and many of its features are intricately bound to Windows APIs. The FireMonkey framework is based on a completely different architecture and design, so the only answer we could give to these many questions was to wait till we rebuild a new grid from the ground up. A task that would of course take a significant amount of time.

Our team first set out to explore and get acquainted and experienced with the new FireMonkey framework by taking on the development of some smaller lightweight components.Once the team was past the apprentice stage, we started architecting the foundations of the new grid with following requirements in order of priority:

1) fully respect the design principles of the FireMonkey framework: the grid uses FireMonkey objects everywhere and heavily uses styles.

2) cross-platform: like other FireMonkey components, it should be seamless to use the grid on Win32, Win64, Mac OSX and iOS.

3) high performance: grids with 500.000 rows x 10.000 columns should be perfectly usable.

4) LOB feature-rich: focus on offering a wide range of features for typical data presentation & editing in line of business applications.

5) TAdvStringGrid familiarity: focus on a clean intuitively usable & discoverable programmers interface but where possible, make it familiar for VCL grid developers.

Requirement 1 and 2 were given our earlier experience with other FireMonkey component development straightforward. Requirement 3 was by far the hardest. We literally spent weeks on trying to find implementations for achieving an architecture with a high performance that is at the same time as customizable and style-able as a FireMonkey component is supposed to be. Finally, our long experience with TAdvStringGrid also made working on requirements 4 and 5 a bit easier.

So, what feature set made it for v1.0:


import and export: CSV, TXT, ASC, HTML, XML, RTF (native),XLS (native), streams
clipboard support
printing support: print to printer, print to image file, print preview component
find & replace including find & replace dialogs
various built-in inplace editors: edit, combobox, datepicker, dial, spin, ... and customizable
various built-in cell types: text, bitmap, button, checkbox, radiobutton, progressbar, ... and customizable
cell merging
fixed header rows, fixed footer rows, fixed left columns, fixed right columns
column freezing, row freezing
cell scrolling & pixel scrolling modes
various selection modes: single cell, range, column, row, disjunct column, row, cell
sorting: single column & multi column in normal & in grouped mode
filtering: programmatic row filtering and filter dropdowns in a column header cells
grouping: built grouping with group headers, group summary rows
calculations: column calculation results in fixed footer row
HTML formatted text in cells, URLs in cells
Fine grained control over keyboard & mouse interaction
Lots and lots of smaller features
To help users get up to speed fast with the grid, we have included over 10 feature highlighting sample applications and have an over 100 pages PDF developers guide.

What is planned for upcoming updates:
Work has already started for adding full live bindings support and we have already several things working internally. We'll also be looking at inter component drag & drop. TMS Grid Filters will be updated to support the TMS FireMonkey grid and will offer this way also support for native .XLSX file import/export and of course, we look forward to all your feedback, comments and wishes to steer the development of upcoming versions of our FireMonkey grid. We'll introduce very soon a new platform for you to help us prioritizing on features you need the most.

With all the buzz around the new grid, we'd almost forget that some other new components were added to the TMS Pack for FireMonkey: TTMSFMXEdit, TTMSFMXEditBtn and TTMSFMXNavBar. The TTMSFMXEdit is an advanced edit control with configurable edit types, auto completion and lookup dropdown. TTMSFMXNavBar is an Outlook style navigation control.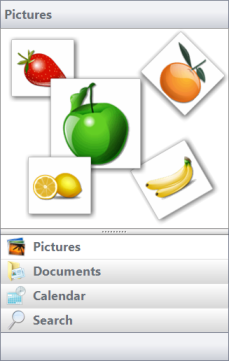 Download the trial version of the TMS Pack for FireMonkey v1.5 now at: https://www.tmssoftware.com/site/tmsfmxpack.asp Registered users of TMS Pack for FireMonkey v1.0 or v1.1 receive this update v1.5 free!



Bruno Fierens




Bookmarks:







Previous | Next | Index