VCL
TAdvSpreadGrid
Powerful spreadsheet function calculation support added to the full TAdvStringGrid feature set
---
Feature overview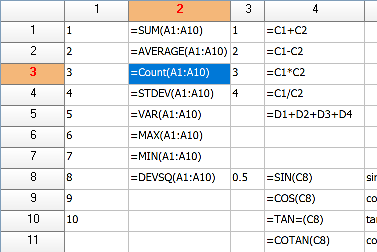 TAdvSpreadGrid extends the full power of TAdvStringGrid with formulas.
Simple formula editing interface
Auto recalculation
Native XLS file import and export*
Single cell recalculation, full recalculation
Extensive range of mathematical functions
Save with formulas or formula results only
Single cell references in formulas
Cell range formulas
Formula precision for grid on cell basis
Display formulas or formula results
Date / time functions
Intelligent formula aware copy and paste
Can be extended with custom functions
Cell names
Cell name mode can be RxCy style or A1-style
Can reference cells from other TAdvSpreadGrids
Math library infrastructure to allow easy extending
TAdvSpreadGrid with custom functions
Includes the free ESBMaths library with 46 scientific constants and 19 mathematical functions from ESB Consultancy
ESBPCS maths library available for even more statistical functions
Intelligent and customizable hints while editing formulas
Sample application
A sample application showing the TAdvSpreadGrid capabilities can be downloaded here
Extra information
Note: TAdvSpreadGrid is an add-on for the TAdvStringGrid. The registered version of TAdvSpreadGrid requires a registered latest version of TAdvStringGrid to be installed. TAdvSpreadGrid is included in the TMS VCL UI Pack, TMS Grid Pack, TMS Component Studio, TMS VCL Subscription.
Help
What our customers say
In the past I have purchased other components from other parties. I will say proudly that TMS is the best in support, price and style. Whenever I need a help your team is always there to help me. Keep up the good work
Hi Bruno Just want to drop you a line about how great your presentation was today. We often fail to point out to someone when they do a great job! You did a great job, you gave me a lot of ideas, and you answered my question very well. THANK you for your great products & super support.
Thank you for developing components where I can best describe it like this: TMS components is a case where "The wheels fit the car, and NOT the car fit the wheels". Well done.
As always your support is extraordinary and lightning fast.
Great controls - Just like I remember from the project I worked on 1998-2003. The controls only got better
❮
❯
Site license
---
unlimited developers in the company
€ 510 yearly renewal * € 1275

---

---
Compatibility
Delphi 7, 2007, 2010, 2009, XE, XE2, XE3, XE4, XE5, XE6, XE7, XE8, 10 Seattle, 10.1 Berlin, 10.2 Tokyo, 10.3 Rio, 10.4 Sydney, 11 Alexandria, C++Builder 2007, 2009, 2010, XE, XE2, XE3, XE4, XE5, XE6, XE7, XE8, 10 Seattle, 10.1 Berlin, 10.2 Tokyo, 10.3 Rio, 10.4 Sydney, 11 Alexandria (Professional/Enterprise/Architect)
---
Licensing
License for commercial use: Single developer license, Small team license, Site license
Includes full source code
Ask questions to our engineers related to purchased product via Support Center
Free 1 year updates and new releases
After 1 year, a discount renewal is offered for a 1 year extension. *
* offer valid for 30 days after end of license. Discount price is subject to change.
---
Included In
Bookmarks
×