VCL
TAdvSmoothTileList
Versatile and extensible tile based gallery style component with tile scrolling, paging, moving, deleting and hierarchical tile structure.
---
Feature overview
TAdvSmoothTileList is designed to visually display and animate highly configurable tiles, with complex appearances and hierarchy. Tiles can have content for a normal state and for a maximized state. In addition, a sub tiles collection exists for each tile, allowing to hierarchically navigate in tiles in the TAdvSmoothTileList. The TAdvSmoothTileList can be connected to separate visualizer components, allowing to separately define specific visualizations for tiles.
Complex gradients with opacity
Custom drawing
Different states for each tile: normal, hover, selected, maximized
Different appearances for each tile
ImageList and GDI+ PictureContainer support
Support for HTML formatted text
Keyboard support and mouse handling
Programmatic interaction
Header and footer navigation
Content and Maximized Content visualizers
Animation transitions
Delete and Move inside tile list
Automatic paging
Columns and Rows
Built-in color settings for Office and Windows styles
Compatible with TMS TAdvFormStyler / TAdvAppStyler
Capability to show HTML formatted text in header and footer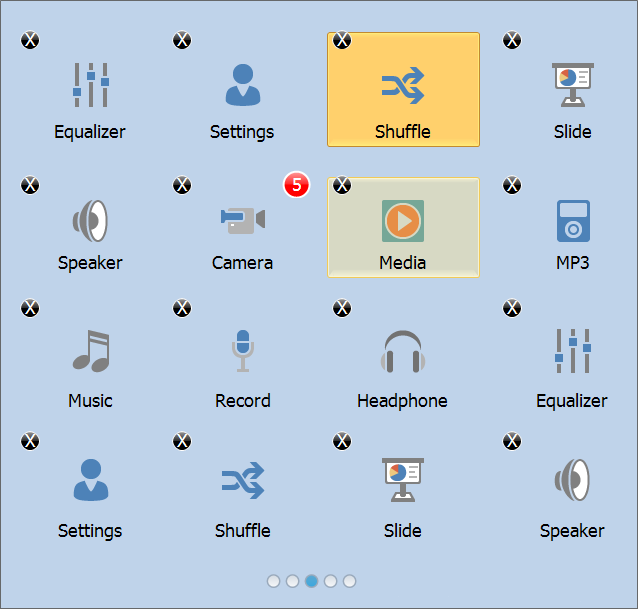 Help
What our customers say
Thank you Mr. Fierens for your time and assistance. Just want to say your VCL Pack is fabulous.
Thank you for this superb tool collection!
Thanks for the effort to create the VCL grid goodies ! These chunks of outcome-oriented teaching-material are very useful. It's unbelievable how powerful the grid is when one knows how to unveil it's countless options...
I don''t know how I could have created and managed so many projects without the AdvStringGrid! And although there is already so much functionality in it I''m using my own derived version with automatic column widths, enhanced export to Excel (including text colors, backround colors, comments, merged cells and more), the possibility to fill in static data at design time and more. This often allows me to build a new tool in hours instead of days! Support is also great! Thanks.
Keep up the great work...Every new release of TMS Component Pack is like Xmas. Top quality components! :-)
❮
❯
Site license
---
unlimited developers in the company
€ 510 yearly renewal * € 1275

---

---
Compatibility
Delphi 7, 2007, 2010, 2009, XE, XE2, XE3, XE4, XE5, XE6, XE7, XE8, 10 Seattle, 10.1 Berlin, 10.2 Tokyo, 10.3 Rio, 10.4 Sydney, 11 Alexandria, C++Builder 2007, 2009, 2010, XE, XE2, XE3, XE4, XE5, XE6, XE7, XE8, 10 Seattle, 10.1 Berlin, 10.2 Tokyo, 10.3 Rio, 10.4 Sydney, 11 Alexandria (Professional/Enterprise/Architect)
---
Licensing
License for commercial use: Single developer license, Small team license, Site license
Includes full source code
Ask questions to our engineers related to purchased product via Support Center
Free 1 year updates and new releases
After 1 year, a discount renewal is offered for a 1 year extension. *
* offer valid for 30 days after end of license. Discount price is subject to change.
---
Included In
Bookmarks
×