VCL
TInspectorBar
Outlook bar & property inspector component in one
---
Feature overview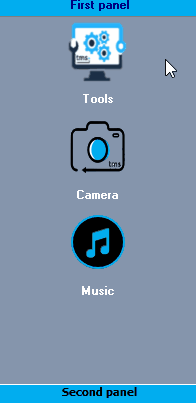 TInspectorbar, TINIInspectorbar, TRTTIInspectorbar, TDBInspectorbar
Standard Outlook large and small icon size panels
Can accept controls in InspectorPanels
Build in support for checkboxes, edits, comboboxes, spin editors, datetime pickers, font editing, color picker, password edit ..
Custom inplace editors support
Visual Studio .NET toolbox style
Optional build-in DBNavigator in DBInspectorBar
Background textures, gradients, images in items
Various shading styles for panel captions, including XP button style & bitmap effects
Various hover effects
Full visual styles support on Windows XP
GlyFX DBNavigator glyphs
Compatible with TMS TAdvFormStyler / TAdvAppStyler
Includes TFormControlInspectorEditLink, that allows to use any TWinControl based edit control that is placed on the form as inplace editor for the TInspectorBar.
Help
What our customers say
Thank you for this superb tool collection!
Thanks for the effort to create the VCL grid goodies ! These chunks of outcome-oriented teaching-material are very useful. It's unbelievable how powerful the grid is when one knows how to unveil it's countless options...
I don''t know how I could have created and managed so many projects without the AdvStringGrid! And although there is already so much functionality in it I''m using my own derived version with automatic column widths, enhanced export to Excel (including text colors, backround colors, comments, merged cells and more), the possibility to fill in static data at design time and more. This often allows me to build a new tool in hours instead of days! Support is also great! Thanks.
Keep up the great work...Every new release of TMS Component Pack is like Xmas. Top quality components! :-)
I must say that the increasing number of features and sophistication of your VCL components is impressing. Your components also inspires to add new functionalities to our application.
❮
❯

---
Compatibility
Delphi 7, 2007, 2010, 2009, XE, XE2, XE3, XE4, XE5, XE6, XE7, XE8, 10 Seattle, 10.1 Berlin, 10.2 Tokyo, 10.3 Rio, 10.4 Sydney, 11 Alexandria, C++Builder 2007, 2009, 2010, XE, XE2, XE3, XE4, XE5, XE6, XE7, XE8, 10 Seattle, 10.1 Berlin, 10.2 Tokyo, 10.3 Rio, 10.4 Sydney, 11 Alexandria (Professional/Enterprise/Architect)
---
Licensing
---
Included In
Bookmarks
×