Blog Options
Archive
<< September 2020

>>
Authors
---
Blog
All Blog Posts | Next Post | Previous Post



Bookmarks:
Friday, January 14, 2011
For all developers in the Netherlands and Belgium, an interesting Delphi Workshop is planned by Bob Swart on February 14, 2011 in Helmond Brandevoort. The workshop is focused on iPhone / iPad / iPod Touch development using Delphi XE. Bob Swart will also give a session on the TMS IntraWeb iPhone Controls. TMS IntraWeb iPhone Controls Pack offers several components for building feature-rich (Intraweb) web applications with a native application look & feel. This includes a smooth scrolling list control, headers, menu, page transition effects, iPhone style trackbar, iPhone style toggle button etc.. The controls are heavily using async updating, async events and Webkit CSS offering a near native application feeling to your web application for iPhone and iPad.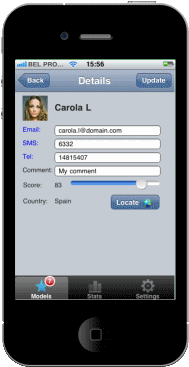 Full details about the workshop can be found at: http://www.bobswart.nl/Weblog/Blog.aspx?RootId=5:4532
There will also be a prize for a lucky attendee,
namely a free TMS IntraWeb iPhone Controls Pack.

Nancy Lescouhier
Bookmarks:
This blog post has not received any comments yet.




All Blog Posts | Next Post | Previous Post