This week we celebrate 27 years of Delphi! It's for a whole generation of software developers already well over the half of a career that Delphi gives us professional satisfaction as well as bread on the table.
But this year, we wanted to devote this birthday of Delphi to the next generation. The new generation that discovers Delphi and is feeling enthusiasm and the new generation for which Delphi still is a valuable & productive tool to accomplish real-life software development tasks that has an impact on people's lives.

See and read & be amazed about what Stephanie (our intern this year) accomplished for Delphi apps that can change people's lives, including people with disabilities.
FNC Conversion Components in TMS Analytics & Physics

From version 3.3, TMS Analytics & Physics library contains several FNC components for converting math formulae and units of measurement to special text formats. In this article, we'll consider how to do the conversion and how then use the converted strings in Delphi applications. Let's begin with formula converters:


TFNCFormula2PlainConverter - converts a formula to plain text.
TFNCFormula2TeXConverter - converts a formula to TeX format.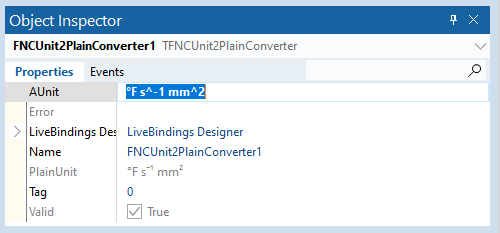 TMS FNC Chart is designed to display different kinds of data such as financial and marketing data, monthly business sales, graphical and math data and much more as a chart. This chart is almost fully customizable.

Discover the new features of this update.
New : IDE Theme enabled designer
New : High DPI enabled designer
Improved : Added SaveToBase64 for TMS WEB Core
Fixed : Issue with auto calculating units in combination with date-time format
Fixed : Issue with SaveToImage