A new update for our product TMS VCL UI Pack has been released.

What's new in v10.7.1.0:
New : Public method FindNext on TAdvMemoFindDialog
New : Public method FindNext, ReplaceNext on TAdvMemoFindReplaceDialog
New : GDIPImageTextButtonItem added properties ButtonImageStretch and ButtonImageAspectRatio when using larger images
Improved : Automatic TAdvMemo pickup when creating TAdvMemoFindDialog, TAdvMemoFindReplaceDialog
Improved : Included ignoring weak certificates when certificate checking is disabled in TWebUpdate
Improved : Default button size in TMoneyEdit
Improved : Button glyph center alignment in TAdvMoneyEdit, TMoneyEdit
Improved : BorderColor updating during editing in TAdvSearchEdit
Improved : High DPI handling for TInspectorBar combobox property types
Improved : High DPI handling for TInspectorBar font property types

+ various smaller improvements & fixes.

Available separately and also included in TMS ALL-ACCESS, TMS VCL Subscription and TMS Component Studio

2021
Looking back at our milestones & achievements in 2021 actually positively surprised me. Even when we often get the impression that on a daily basis, we sometimes spend a lot of time fighting all kinds of little or big technical issues and have the impression we only move forward in baby steps, when looking at it in the scope of a full year, it appears a lot has been done.

2022
Over the last month, we have been sitting together and the todolists were filled, the gantt charts created, the goals & milestones listed. 2022 promises to become at least as exciting as 2021 with totally new products coming, new components added to existing products, new features added to existing components, new videos and webinars in the pipeline, new ways to communicate to you,...

Organized by The UK Developers Group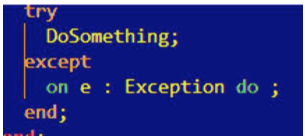 Next Meeting - 17th Jan 2022

Agenda:
Developing a full XData - WebCore stack
This session will show the work doen to create a fully functional application using the TMS XData server and WebCore client library.
Presented by Russell Weetch