TMS FNC Maps v1.3
Hold the full power of mapping in your hand! Cross-framework, cross-platform, cross-service mapping component library

New update for TMS FNC Maps is now available!

New in v1.3:
New : TTMSFNCGoogleMaps: Options.ShowStreetView property (9/2/2021)
New : TTMSFNCGoogleMaps: OnStreetViewChange event (9/2/2021)
New : TTMSFNCDirections: GetDirections AvoidTolls parameter (9/2/2021)
Improved : Core Improvements (9/2/2021)
SVG quality improvements
Blog article
A while back, we introduced SVG in TMS VCL UI Pack. The first version focused on smaller icon sets. We have meanwhile tweaked and improved the engine and although there is still a lot of work to be done, the next update of TMS VCL UI Pack will offer 2 quality of life improvements:
Gradients (GDI+)
Rendering quality (GDI+)
Disabled drawing (TVirtualImageList)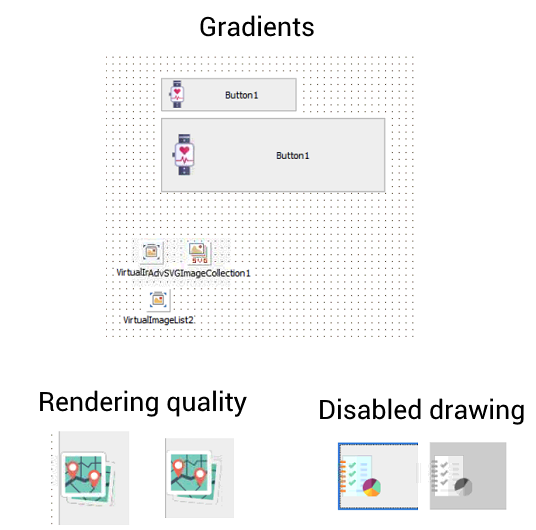 TMS videos
New videos available

We have good news for our TMS Business and TMS WEB Core users in Brazil!

You can now join the TMS Discord server with Portuguese content and share your experiences, contact other users, ask for opinions and technical questions.

Even though this is not an official TMS support channel, TMS Business architect Wagner Landgraf also participates in the server and from time to time is there to help people together with other users.

Join the community and enjoy your TMS products to the fullest!



Boas notícias para os usuários TMS Business e TMS Web Core no Brasil!

Agora existe os canais da TMS no Discord, com conteúdo em português, pra você compartilhar experiências, entrar em contato com outros usuários, pedir opiniões e fazer perguntas técnicas.

Apesar de não ser um canal de suporte TMS oficial, Wagner Landgraf, arquiteto dos produtos TMS Business, também é um participante e eventualmente está lá ajudando os participantes junto com outros usuários.

Entre no Discord e aproveite os produtos TMS ao máximo!